Sterimar Baby Nasal Hygiene Spray - 50ml
Product Information
Sterimar Baby Nasal Hygiene Spray is the only 100% natural isotonic solution that gently clears and unblocks little noses. It works by clearing impurities from the nose and moisturising nasal passages for the nose to work better as a first line of defense.


Description
Sterimar Baby Nasal Hygiene Spray is a low pressure sea water nasal spray and is completely safe to use from 0 - 3 years, or as directed by a medical practitioner. It allows for the quick elimination of secretion while restoring natural moisture of nasal mucosa. It also helps children learn how to blow their noses. With a clear nose, nasal secretions will not risk to be sniffed into the back of the throat and potentially cause ENT problems.
Usage
Sterimar Baby Nasal Hygiene Spray can be used as long as required 2 - 6 times a day or more if needed, or as directed by a medical practitioner. Gently insert the nozzle into the nostril. Press the nozzle briefly-let any excess solution run out before wiping the nose. Repeat the operation in the other nostril. Clean the nozzle with soapy water, rinse and dry.
Ingredients
Sea Water, Purified Water.
Suitable For
Suitable for babies and children 0 - 3 years.
Cautions/Allergies
Do not exceed the stated dose.
Keep out of the reach and sight of young children.
Pressurised container, do not expose to sunlight, pierce or incinerate.
Frequently Asked Questions (0)
You Could Also Consider These Childrens Colds & Flu Products
Great Combinations
Sterimar Congestion Relief Hypertonic Spray - 100ml
Relieves congestion. Hypertonic. 100% natural. Preservative & steroid free.
£7.29
Add to basket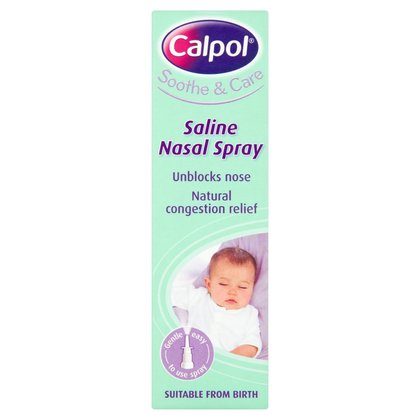 Calpol Soothe & Care Saline Nasal Spray - 15ml
Isotonic nasal saline spray. Provide natural relief from nasal congestion. Gently clean & moisten the mucous membranes of the nose.
£5.10
RRP £5.37
Save £0.27 (5% OFF)
View Product