Product Information
Calpol Soothe & Care Saline Nasal Spray helps wash away built up mucus, helping children to breathe more freely. This natural, non-medicated treatment, can be used directly from birth and can be taken alongside Calpol Infant Suspension if pain and fever relief is also required.


Description
Calpol Soothe & Care Saline Nasal Spray is ideal to relieve congestion caused by cold and flu, sinusitis and allergies such as hayfever.
Usage
For nasal use only.
Babies & infants up to 2 years: Lay baby/infant down & turn their head to one side. Insert nozzle into nostril & spray once. Repeat process for other nostril.
Adults & children over 2 years: Insert the nozzle into the nostril & spray twice. Repeat process for other nostril.
Ingredients
Active ingredient: 0.9% Sodium chloride. Other ingredients: Sodium hydrogen carbonate anhydrous, Potassium chloride, Calcium chloride, Magnesium chloride hexahydrate, and Purified water.
Suitable For
Adults, children and babies.
Cautions/Allergies
Do not exceed the stated dose.
Keep out of the reach and sight of young children.
Discard 12 weeks after first opening.
Do not use after the expiry date shown on the product packaging.
If symptoms persist, seek medical consultation.
Frequently Asked Questions (0)
You Could Also Consider These Kids Pain Relief Products
Great Combinations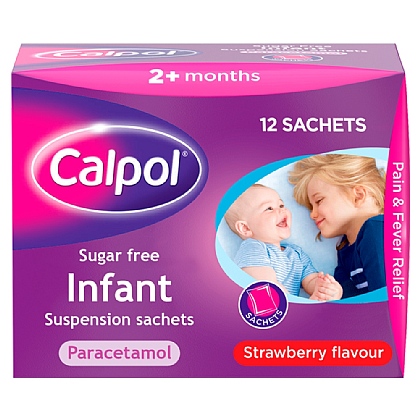 Calpol Infant Suspension Sugar Free Sachets - 12
Sugar Free. Provide soothing relief from pain and fever. Work in just 15 minutes. Gentle on delicate tummies.
£3.99
RRP £4.20
Save £0.21 (5% OFF)
View Product