Piriton Syrup provides fast relief from the symptoms of hayfever and other allergies such as nettle rash, hives, heat rash, prickly heat, reactions to food & additives, medicines and insect bites. Unlike the Piriton Tablets, Piriton Syrup can be taken by children from as young as 1 year.
Treats the symptoms of allergies
Suitable from the age of 1 year
Fast acting
Product Information
Description
Piriton Syrup is a great hay fever treatment option for all the family but particularly children. Piriton understands how upsetting it can be for a parent to see their child suffering with symptoms of an allergy. Piriton Syrup can relieve the symptoms of hay fever and other allergies, the itchy rash of chickenpox, and can aid restful sleep when symptoms are troublesome at night.

Piriton Syrup contains the active ingredient, chlorphenamine maleate, a sedating antihistamine, which works by preventing the actions of histamine (the substance produced by the body as part of its defence mechanisms). Exposure to substances such as pollen, pet fur or dust can cause the body to produce histamine. Once released, histamine causes an increase in blood flow to the area of the allergy, and the release of other chemicals that add to the allergic response.
Ingredients
Chlorphenamine Maleate. Sucrose. Glycerol. Ethanol. A mixture of Methyl, Ethyl & Propyl Hydroxybenzoates (E218, E214 & E216).
Suitable for / Cautions
Suitable For
Suitable For adults, the elderly and children over the age of 12 months.
Cautions/Allergies
For oral use only. Not suitable for children under the age of 12 months. Keep out of the reach and sight of young children. Do not take if your are allergic to the active substance Chlorphenamine Maleate. May cause drowsiness.
Great Combinations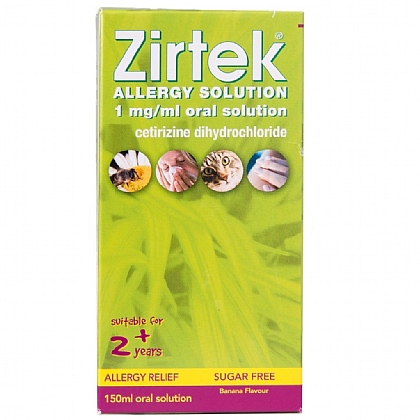 Zirtek Allergy Solution 150ml
Oral solution. Sugar Free. With banana flavouring. Provides relief from all the symptoms of hayfever for up to 24 hours.
£6.06
RRP £6.38
Save £0.32 (5% OFF)
Add to basket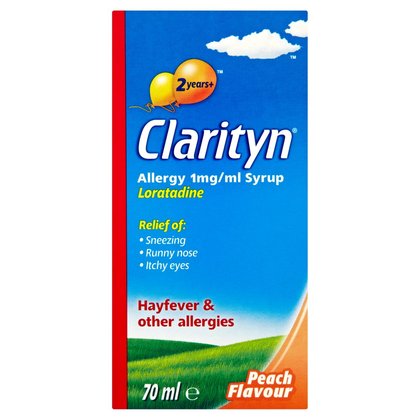 Clarityn Allergy Syrup - 70ml
Clarityn Allergy Syrup is non-sedating antihistamine solution that helps to relieve various allergy symptoms.
£4.27
RRP £4.49
Save £0.22 (5% OFF)
View Product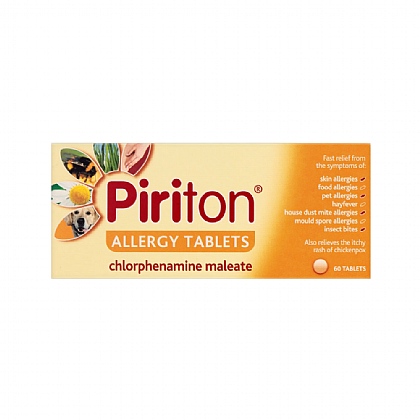 Piriton Allergy Tablets - 60
Provides fast relief of hayfever & other allergies. Contains chlorphenamine maleate.
£6.36
RRP £6.69
Save £0.33 (5% OFF)
Add to basket
You Could Also Consider These Antihistamine Syrup Products