Theanine 200mg
The compound in tea which helps relaxation
High purity L-Theanine, one of the strongest tablets available in the UK
We insist on the L- not D form for better absoprtion
Fantastic reviews from happy customers
Tablets made to GMP standards
Product ID: 766W
High purity L-Theanine, one of the strongest tablets available in the UK
We insist on the L- not D form for better absoprtion
Fantastic reviews from happy customers
Tablets made to GMP standards
Product Information
Everyone knows that 'a nice cup of tea' is the best thing for someone who has had some kind of shock or stressful ordeal. No other hot drink seems to offer this kind of support so there must be something in tea that has this calming effect. Tea certainly contains a surprising amount of caffeine and yet is not generally considered as a stimulant in the way coffee is. Some researchers think that this may be because tea contains something else - in effect cancelling out the caffeine. The mystery ingredient in tea is now thought to be an amino acid called L-Theanine. When L-Theanine has been given to people in clinical studies many of the positive effects of tea can be reproduced. Nature's Best L-Theanine is the purest form available and is the one used in clinical studies. L-Theanine is not known to be addictive and does not cause drowsiness.
Daily Intake
Take 1 tablet daily with a meal. Do not exceed recommended daily dose.
Food supplements should not replace a balanced diet and healthy lifestyle.
Formula
Ingredients
Calcium Carbonate, L Theanine, Cellulose, Anti-caking agents (Silicon Dioxide, Stearic Acid & Magnesium Stearate), Crosslinked Cellulose Gum, Tablet Coating (Hydroxypropyl Methylcellulose, Glycerine).
Suitable For
This product is suitable for all adults.
This product is suitable for vegetarians and vegans.
Cautions/Allergies
This product is free from wheat, yeast, dairy, soya, nuts and shellfish.
This product is free from gluten containing ingredients.
This product is not suitable during pregnancy or breast feeding.
Frequently Asked Questions (0)
You Could Also Consider These Maximise Performance Products
Great Combinations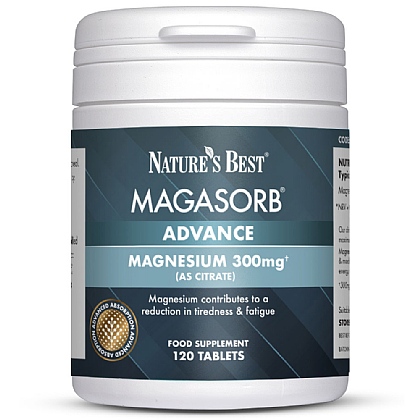 MagAsorb® Ultra (Magnesium Citrate 150mg Tablet)
5/5 based on

6 customer reviews
120 tablets, 1-2 daily, 2 + month's supply
Our unique, premium grade magnesium. For those that need the best form at the best price. A generous 150mg magnesium citrate per tablet.
£11.50
Add to basket
"Helps me fall asleep"
By
allison burt
, 12 Sep 2021
Im on my 5th bottle of these.i was advised by a holistic doctor that these tablets help with sleep and falling asleep.they definately do help.and theres no side effects .even my dad and daughter use them now.i always buy from natures best!!
Recommend to a friend: Yes
How much has this product helped you?
By
Anonymous
, 01 Mar 2020
Recommend to a friend: Yes
How much has this product helped you?
By
Anonymous
, 19 Aug 2019
This product has been very helpful for anxiety.. this is the 3rd time I have purchased this after trying other products it definitely helped me.. just take when you feel all the signs coming over you! Many blessings ??
Recommend to a friend: Yes
How much has this product helped you?
By
Morrigan Tate
, 11 May 2019
I suffer chronic anxiety. Have done for years. Have tried anti depressants, they don''t work. I saw this an read about the trials.. They looked quite positive. So I tried it. I swear it definitely takes the edge off. Helps you you feel more calm. I suggest it to all my mates.
Really love this product.
Suffer anxiety give this a go.
Recommend to a friend: Yes
Thank you for taking the time to leave a review.

If you are not already doing so, we would suggest that you keep your doctor informed of any supplements that you are taking.
Nature's Best Nutrition Advice:
How much has this product helped you?
"Theanine "
By
Anonymous
, 27 Jan 2015
Why do you use this product Theanine 200mg ?
Great help to my sleeping problems, just can't relax before bed. I rang Nutrition Advice and before I knew it I had a free sample to try. It worked great and I bought some. Simple!

Recommend to a friend: Yes
How much has this product helped you?