Chocolate Protein Bars
Great tasting, high quality bars with over 21g protein in each bar
Product Information

Rich & delicious, our post workout bars provide a specially crafted balance of protein and carbohydrate. Great for high intensity workouts.

Each bar provides 21 grams of whey protein and 18 grams of fast acting maltodextrin carbohydrate. Since protein is essential for repair and recovery of muscles, these bars make a great high protein snack during or post training. Maltodextrin is a complex carbohydrate that provides a rapid source of energy, perfect for replenishing energy levels. Each bar is just 209 Calories. Many customers keep a bar handy as they are an excellent, tasty and convenient way to top up on protein.

Daily Intake
Take 1-2 bars per day. Perfect either during or after training. Consume as part of a balanced diet and healthy lifestyle.
Formula
Of which unsaturated fatty acids
4.7g
Ingredients
Milk Protein, Sweeteners (Maltitol, Sucralose), Maltitol Milk Chocolate Coating (15%) (Sweetener: Maltitol, Cocoa Butter, Whole Milk Powder, Cocoa Mass, Emulsifier: Soya Lecithin, Natural Vanilla Flavour), Sustainable Palm Fat, Water, Humectant: Glycerol, Bulking Agent: Polydextrose, Whey Protein Concentrate, Collagen Hydrolysate, Soya Protein Isolate, Cocoa Soya Crispies (1.9%) (Soya Protein Isolate, Tapioca Starch, Cocoa Powder), Cocoa Powder, Flavour (Milk), Colour (Caramel), Maltodextrin, Sustainable Palm Fat.
Suitable for / Cautions
Suitable For
This product is suitable for all adults.
Cautions/Allergies
For allergens see ingredients listed in bold.
May contain traces of gluten, nuts, peanuts and eggs
Do not take if pregnant or breast feeding
You Could Also Consider These Protein Bars Products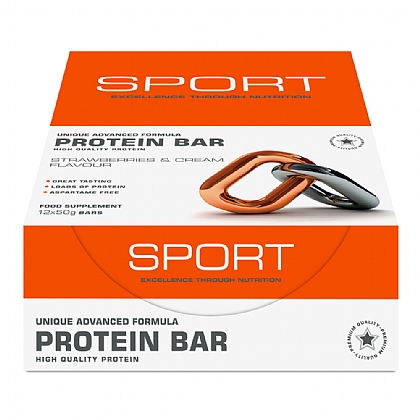 Strawberries & Cream Flavour Protein Bars
4.8/5 based on

12 customer reviews
So tasty, you won't believe they're good for you
These delicious, creamy protein bars are a healthy replacement to biscuits and chocolate. 18g of protein per bar – the perfect snack or after-exercise nibble.
£18
£15
Add to basket
"A nutritious go to for a quick easy lunch"
By
Mary Bromilow
, 01 Aug 2019
I keep these in reserve for those days when I know I need protein but time is against me. They are delicious and filling and very convenient.
Recommend to a friend: Yes
How much has this product helped you?
"Best tasting protein bars"
By
Michelle harvey-Jones
, 13 May 2019
They taste really good compared to most bars and I enjoy them rather than forcing them down
Recommend to a friend: Yes
How much has this product helped you?
"Very pleased with these protein bars"
By
Susan Schiff
, 29 Apr 2019
I eat one in the morning sometimes so that I can take my medication without having to make a meal !
Recommend to a friend: Yes
How much has this product helped you?
"Delicious"
By
Nazri Buang
, 29 Dec 2018
The taste is delicious but I still prefer the taste to be sweeter. Maybe you can add honey to improve the taste. British Intelligence. Ha ha
Recommend to a friend: Yes
Thank you for taking the time to leave a review.

We have passed your suggestion onto our Product Development team.
Nature's Best Customer service:
How much has this product helped you?
"Convenient & tasty source of protein"
By
Anonymous
, 08 Dec 2018
I use this product most mornings after coming back from the gym or tennis. It''s a low-fat source of protein in a quick and convenient, calorie-counted (about 200) snack. I alternate between this flavour and the strawberry one, though this one is my favourite. Much better value than most protein bars in the shops. Nice and chewy, much more substantial than other biscuity bars you can buy.
Recommend to a friend: Yes
How much has this product helped you?