Lecithin Granules, Natural Source Of Phosphatidyl Choline
With A Mild Nutty Taste, 450 grams
Pure lecithin from soya and GMO free
Mild nutty flavour adds to savoury dishes
Easy to use, sprinkle on cereals or use in cooking
Great source of choline and inositol
Product ID: 777
Pure lecithin from soya and GMO free
Mild nutty flavour adds to savoury dishes
Easy to use, sprinkle on cereals or use in cooking
Great source of choline and inositol
Product Information
These pure lecithin granules are a natural source of choline and inositol, two important nutrients associated with the B Vitamins, which play a role in fat metabolism.

This product is in the form of granules which have a pleasant mild nutty taste and are produced from 100% natural soya extract. They can be easily sprinkled on to cereals, added to soups or used in any cooking where a thickener might be useful. For convenience we also provide lecithin in capsules.
Daily Intake
Sprinkle 1 to 2 level tablespoons of granules onto cereals or use as a cooking ingredient. Lecithin makes a useful thickener in soups, sauces and casseroles. Do not exceed recommended daily dose. 1 level tablespoon = 7.5 grams
Food supplements should not replace a balanced diet and healthy lifestyle.
Formula
as Phosphatidyl Choline
24%
Phosphatidyl Ethanolamine
21%
Ingredients
Soya Lecithin Granules.
Suitable For
This product is suitable for all adults and children aged 4 years and over.
This product is suitable for vegetarians and vegans.
This product is suitable during pregnancy or breast feeding.
Cautions/Allergies
For allergens see ingredients listed in bold.
This product is free from wheat, yeast, dairy, nuts and shellfish.
This product is free from gluten containing ingredients.
Frequently Asked Questions (0)
You Could Also Consider These Soya Lecithin & Granules Products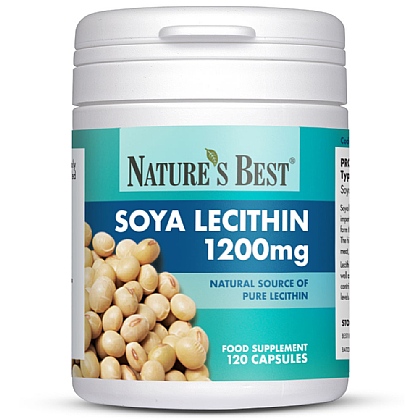 Soya Lecithin 1200mg, Rich Source of Choline & Inositol
5/5 based on

81 customer reviews
120 Capsules, 1 Month's supply, 4 a day
Pure natural lecithin from soya. Great source of choline and inositol, plus phosphatadyl serine. Popular choice for slimmers. UK Made
£7.50
Add to basket