Comfrey Cream, Clinically Proven To Target Joint Pain, Naturally
Non-Greasy With A Pleasant Aroma, 50g Tube
Unique medicinal product
Successfully used in clinical studies
Only available from Nature's Best
Do not compare with other comfrey based creams
Product ID: 211
Unique medicinal product
Successfully used in clinical studies
Only available from Nature's Best
Do not compare with other comfrey based creams

Product Information
Our Comfrey cream is a medicinal product for the symptomatic treatment of joint pains, sprains, inflammation, and strains associated with restricted joint mobility.

The active ingredient is a liquid extract of comfrey root (Symphytum officinale). The plants are harvested when they are three years old, to allow for them to have built up a sufficient concentration of the 'active' ingredients in their roots. A special process then ensures that these 'actives' are preserved and incorporated into the ointment.

What makes our cream truly different from other comfrey-based creams however, is its use in clinical studies, where it has been shown to successfully target joint pain. In fact, participants using the topical cream experienced a 95% reduction in pain when compared to other treatments.

The cream has a pleasant aroma and it leaves no trace once massaged into the affected area (non-greasy). Its fast acting formula and easy application makes it the perfect choice for those 'on the move'. The amount of cream required will depend on the size of the joint to be treated and how bad the symptoms are. However we recommend you always read the label, and the information leaflet which is included in the carton.

The Comfrey plant is a common plant found growing wild along verge sides in the UK and throughout Europe. It's pretty purple/white flowers hang like bells. The root has been prized for centuries for its 'active' properties. So much so that it has been known by many names including 'Knitbone'.


Formula
35g of liquid extract from
(1:2) from Comfrey root (Symphytum officinale L.)
Extraction solvent: Ethanol 60% v/v
Ingredients
Arachis oil (peanut), cetostearyl alcohol, glycerol-1 stearate, sodium laurilsulfate, lavender oil, spruce needle oil, Perfume oil R07338 Spezial PH (contanis benzyl benzoate and rosemary oil), purified water, phenonip (phenoxyethanol, parahydroxybenzoates – ethyl (E214), propyl (216), methyl (E218), isobuyl & butyl-4-hydroxybenzoate), Eumulgin L, sodium hydroxide.
Suitable For
This product is suitable for all adults, the elderly and children over 12 years of age.
Cautions/Allergies
Before use, always read the leaflet carefully.Do not use if you are allergic to comfrey root extract, rosemary oil, or any of the other ingredients, peanut or soya.Do not use if under 12 years of age.Contains arachis oil (peanut), cetostearyl alcohol, methyl (E218), ethyl (E214), propyl (216) hydroxybenzoates, isobuyl & butyl-4-hydroxybenzoates, benzyl benzoate, rosemary oil, see leaflet for further information.Do not use if pregnant or breast feeding.Do not apply to the eyes, mucus membranes or open wounds.
You Could Also Consider These Joint Health Products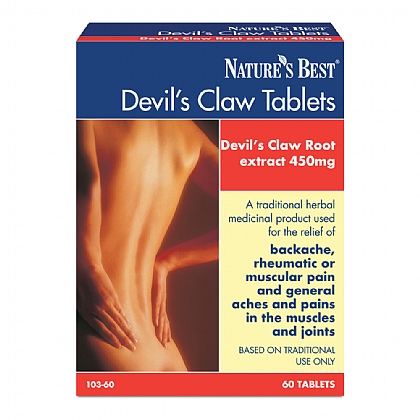 Devil's Claw Root Extract 450mg, Relief Of Backache, Muscular and Joint Pains
4.8/5 based on

84 customer reviews
Easy To Swallow, 60 Tablets, 1 month's supply, 2 a day
Traditional herbal medicinal product used for the relief of backache, rheumatic or muscular pain, and general aches and pains in the muscles and joints.
£13.95
Add to basket
"Seems to be good"
By
TheDogsMum
, 19 Sep 2020
Purchased this to try using for shin & ankle pain.. sciatica related muscle aches and pains after starting to do things again after almost two months of doing not a lot.
It does seem to help somewhat.
It''s a nice cream that rubs in well and isn''t quite so lingering as Deep Heat.
Recommend to a friend: Yes
How much has this product helped you?
"Amazing pain relief cream"
By
Anonymous
, 19 Sep 2020
I got this for my mum who suffers from very painful arthritis in her knees. After using deep heat for ages I got her this to try and she said it definitely works quickly to ease the pain and has a nice smell. I would definitely recommend.
Recommend to a friend: Yes
How much has this product helped you?
"It's short term effective"
By
Sonia Hubbard
, 19 Sep 2020
Have tennis elbow and it relieves the intensity of pain/ache for a bit
Recommend to a friend: Yes
How much has this product helped you?
"Helps relieve pain"
By
Valerie Brewer
, 15 Sep 2020
I have arthritis in my knees
Recommend to a friend: Yes
How much has this product helped you?
By
Anonymous
, 14 Sep 2020
This is the best l have ever used
Recommend to a friend: Yes
How much has this product helped you?