Handmade in Suffolk – Since 1984 Odylique is an organic skincare range of truly effective formulations, based only on organic herbs, plant oils and natural active ingredients that are suitable for all skin types, even the most sensitive of skin.
Odylique is a family-owned company with 30 years of expertise in natural skincare. Every single one of their products is handmade by skin loving experts amidst the rolling fields of Suffolk, UK. All their products are certified to the Soil Association organic standards, do not include food allergens, or chemicals of any kind. Odylique do not use any animal-based ingredients and are 100% cruelty free. Committed supporters of planet welfare, Odylique use responsible, sustainable packaging for all their products. We've fallen in love with this company and their products, we hope you do too!
Skincare that's kind to the planet
Odylique is big on doing the planet as many favours as they can. As such, they make sure that their raw materials suppliers and all their distributors follow the no-testing-on-animals rule, and they go out of their way to adhere to Fair Trade standards and use responsible, sustainable packaging.
Cruelty free
Odylique never test on animals. Instead, they test on human volunteers who have sensitive and allergy-prone skin. The result, a range that is suitable for all skin types, even the most sensitive.
Ingredients
All Odylique ingredients are sourced with the greatest respect to their growers and the environment. For ingredients grown in developing countries, they buy certified Fairtrade wherever such exists. 30-years focused on sensitive skin means that Odylique have a unique position on potential allergens. They avoid all synthetic chemicals and common skin sensitivity triggers.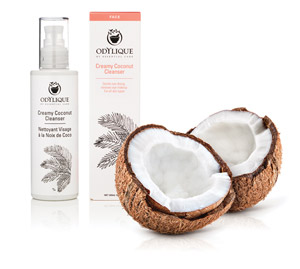 Creamy Coconut Cleanser
Creamy Coconut Cleanser contains a skin-conditioning blend of extra virgin olive and coconut oils which gently but thoroughly lifts away make-up and skin impurities. Organic rose water and a subtle trio of pure essential oils (clary-sage, eucalyptus and lemon) calm sensitive skin and complete a thorough natural cleanse.
• For normal-dry, mature or sensitive skin
• Soothing and cleansing formula
• Rehydrating vitamin-rich extra virgin olive extracts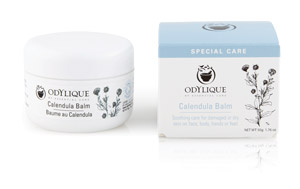 Calendula Balm
Apply this amazing balm anywhere where the skin is dry, cracked or chapped. Calendula is naturally rich in beta carotene, and like chamomile, it has a calming and soothing effect on the skin. Calendula Balm is helpful in nourishing over washed hands and is described by customers as a "little miracle worker".
• Restores cracked, dry, or chapped skin
• For lips, heels, elbows, hands and cuticles
• Hydrating raw shea and coconut