Bisodol Indigestion Relief Tablets - 100
Bisodol Indigestion Relief Tablets provide effective, rapid relief from acid indigestion, heartburn and trapped wind.
Effective relief from acid indigestion
heartburn and trapped wind
Fast acting
Triple action
Product Information
Usage
Adults and children over the age of 12 years: suck or chew 1 or 2 tablets as required.
Ingredients
Calcium Carbonate. Light Magnesium Carbonate. Sodium Bicarbonate. Sodium Content. Saccharin. Sugar.
Suitable for / Cautions
Suitable For
Suitable For adults and children aged 12 years and over.
Cautions/Allergies
Keep out of the reach and sight of young children. Not suitable for children under 12 years. If symptoms persist, please seek medical consultation. Pregnant and breastfeeding women should seek medical consultation before using this medicine.
Great Combinations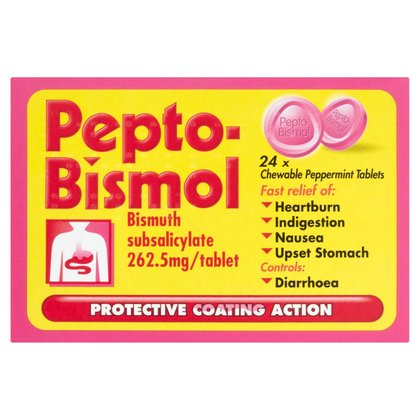 Pepto-Bismol Original Tablets (P) - 24
Pepto-Bismol Original Tablets are easy-to-take, chewable tablets that relieve heartburn, indigestion, nausea, upset stomach, and diarrhoea.
£5.81
RRP £6.12
Save £0.31 (5% OFF)
Add to basket
You Could Also Consider These Tablets Products