Sominex Tablets - 16
A night time sleep aid
16 One a night tablets
Contains Promethazine Hydrochloride
Decreases the time taken to fall asleep
Increases the depth of sleep
Product ID: 5012617018625
A night time sleep aid
16 One a night tablets
Contains Promethazine Hydrochloride
Decreases the time taken to fall asleep
Increases the depth of sleep

Product Information
Sominex Tablets have been formulated for those occasions when you cannot get to sleep because your natural routine is disturbed. Sominex tablets contain promethazine hydrochloride, an antihistamine, which has a sedative effect. The medicine is used as a night time sleep aid, to correct temporary disturbances of sleep pattern where there is difficulty in going to sleep or staying asleep.


Description
Sominex Tablets help to provide approximately six to eight hours of restful sleep. These clinically proven sleeping aids contain the active ingredient promethazine; a type of medicine called a sedating antihistamine. Promethazine enters the brain in significant quantities and causes drowsiness. It decreases the time taken to fall asleep and increases the depth of sleep. This therefore makes Sominex useful for temporary (short-term) relief of sleeping difficulties, such as insomnia, jet lag or other sleeping disorders.
Usage
Adults and children aged over 16 years: take 1 tablet at bedtime. It may be taken up to 1 hour after going to bed when sleep is difficult to achieve.
Ingredients
Active ingredient: Each tablet contains Promethazine Hydrochloride 20mg. Other ingredients: lactose, maize starch, croscarmellose sodium and magnesium stearate.
Suitable for / Cautions
Suitable For
Suitable For adults and children over 16 years of age.
Cautions/Allergies
Do not exceed the stated dose. Keep out of the reach and sight of children. May cause drowsiness. If affected do not drive or operate machinery. Avoid alcoholic drinks. This product should not be taken more than 7 days in a row.
You Could Also Consider These Tablets Products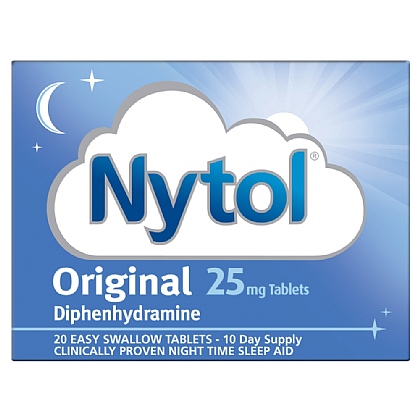 Nytol Original 25mg Tablets - 20
Night time sleeping aid. Clinically proven. Contains diphenhydramine hydrochloride.
£4.59
RRP £4.89
Save £0.30 (6% OFF)
Add to basket
Kalms Night Tablets
A traditional herbal medicinal product used for the temporary relief of sleep disturbances, based on traditional use only.
£4.93
RRP £5.19
Save £0.26 (5% OFF)
Add to basket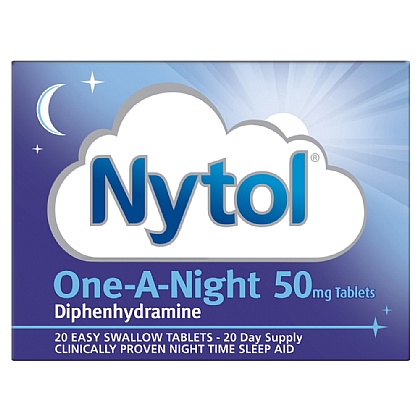 Nytol One-A-Night 20 Tablets
Clinically proven night time sleep aid. Easy to swallow tablets.
£6.79
RRP £6.89
Save £0.10 (1% OFF)
Add to basket