Nytol Original 25mg Tablets - 20
Easy to swallow tablets
10 Day Supply
Used to relieve temporary sleeping difficulties
Product ID: 5012616291647
Easy to swallow tablets
10 Day Supply
Used to relieve temporary sleeping difficulties

Product Information
Nytol Original 25mg Tablets are a clinically proven night-time sleeping aid. Each tablet provides temporary relief for sleeplessness by using a common antihistamine as a sedative to help you drift off into your regular sleep rhythm.


Description
If you're getting tired of feeling tired all the time, and need a temporary solution for those sleepless nights, look no further than Nytol Original. Struggling to get a good night's sleep can be caused by various problems such as stress, jet lag or a personal bereavement. Nytol Original Tablets contain a commonly used antihistamine, diphenhydramine hydrochloride. This active ingredient works by blocking the normal actions of histamine, the chemical that stimulates arousal-promoting areas of the brain. This helps reduce alertness and promote that first drowsy stage of sleep. And once in that first stage of sleep, most people drift off naturally into restful deeper sleep..
Usage
Please read the leaflet carefully before taking this medicine.
Adults and children aged 16 years and over: Swallow two tablets with water 20 minutes before you go to bed. Not to be used by children under 16 years of age. Not to be used by the elderly with confusion.
Ingredients
Active ingredient: Each tablet contains Diphenhydramine Hydrochloride 25mg. Other ingredients: Anhydrous lactose, microcrystalline cellulose, maize starch, stearic acid and silicon dioxide.
Suitable for / Cautions
Suitable For
Suitable For adults and children over the age of 16 years.
You Could Also Consider These Tablets Products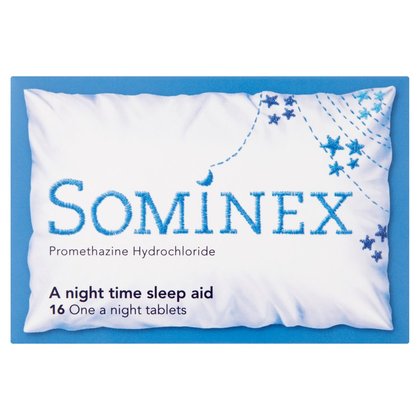 Sominex Tablets - 16
Night time sleep aid. Clinically proven. Relieve's occasional sleeplessness.
£4.36
RRP £4.59
Save £0.23 (5% OFF)
Add to basket
Kalms Night Tablets
A traditional herbal medicinal product used for the temporary relief of sleep disturbances, based on traditional use only.
£4.93
RRP £5.19
Save £0.26 (5% OFF)
Add to basket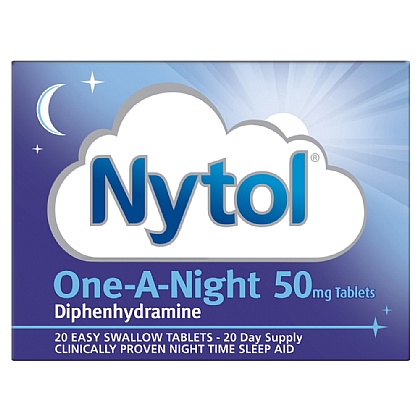 Nytol One-A-Night 20 Tablets
Clinically proven night time sleep aid. Easy to swallow tablets.
£6.79
RRP £6.89
Save £0.10 (1% OFF)
Add to basket