So Thin, they feel like a Second Skin. Feel even closer to your partner with the strong yet amazingly thin Skins Ultra Thin Condom. With all the characteristics of Skins Natural but even thinner, wearing a Skins Ultra Thin brings you as close to the real thing as wearing a second skin.
Never go in without a skin
Working on Association with the NHS
No latex smell
Clear Condoms
Natural Feel
Extra lubricated
Extra comfort and better protection
Product Information
Usage
Put the condom on when the penis is erect and before any physical contact with your partner. To use Skins effectively: Squeeze the tip between your thumb and index finger as you put the condom on to expel all the air (one of the most frequent causes of errors is air in the tip of the condom). After use hold onto the ring at the base of the condom to prevent it from sliding off and withdraw whilst the penis is still erect. Take it off and knot the end and dispose of sensibly.
Ingredients
12 x Skins Ultra Thin Condoms (Length 190mm, Width 52mm, Thickness 0.055mm (55 microns))
Suitable for / Cautions
Suitable For
When used correctly Skins condoms greatly reduce the risk of pregnancy and sexually transmitted infections, although no method of contraception can offer 100% protection.
Cautions/Allergies
If your condom tears during intercourse, always go and see your doctor or Family Planning Clinic as soon as possible. Same goes it you suffer from an itch or burning feeling. This may point to an STI or a latex allergy. Please keep the condom in a cool place away from sunlight. Please be careful when opening the foil, especially if you have sharp fingernails or are wearing jewellery.
Great Combinations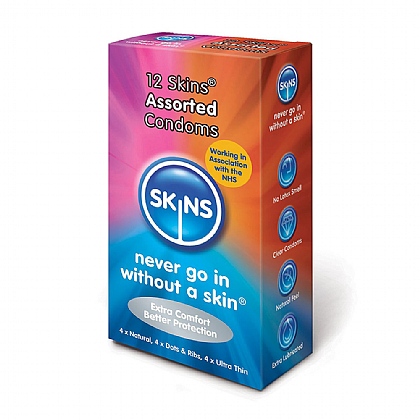 Skins Assorted Condoms
Variety is the spice of life and with this assorted pack you can swap and change depending on how the mood takes you.
£6.64
RRP £6.99
Save £0.35 (5% OFF)
View Product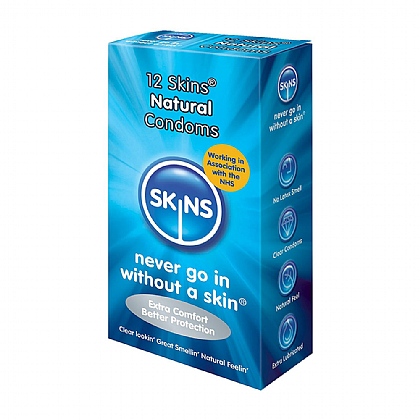 Skins Natural Condoms
Clear Looking, Great Smelling and Natural Feeling! Everyone would prefer not to wear a condom, but now more than ever they are essential wear and we all know the reasons why we should.
£6.64
RRP £6.99
Save £0.35 (5% OFF)
View Product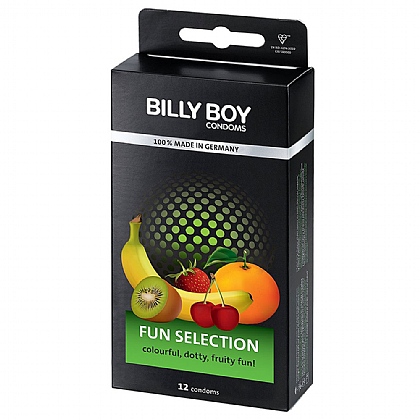 BILLY BOY Fun Selection Condoms
For those who want a bit more fun in the bedroom, Fun Selection includes a fruity strawberry and orange fragranced condoms, dotted condoms for intense stimulation and green coloured condoms.
£9.02
RRP £9.49
Save £0.47 (5% OFF)
View Product
You Could Also Consider These Condoms Products