BILLY BOY Protection Condoms
BILLY BOY Protection is our thickest condom, extra thick and extra safe for added peace of mind. With a wall thickness of 0.1mm, Protection provides added reassurance without forsaking sensation.
Protection - Your bodyguard!
Slightly thicker for added safety and peace of mind
Lubricated, teat-ended condoms
Non spermicidal lubrication
Product Information
Description
BILLY BOY condoms are made only from natural latex and are lubricated for a more natural feeling. Every BILLY BOY condom is 100% made at the BILLY BOY factory in Germany and is individually, electronically pretested for extra safety and reassurance.
The BILLY BOY range of condoms are tested to the highest possible quality standards; carrying the CE and BSI Kite to give you the reassurance that they have been rigorously, independently tested to the most stringent UK and International quality standards.
Usage
Opening: Carefully open the foil wrapper where indicated. This allows you to tear open the wrapper without damaging the condom inside. Caution: sharp objects such as jewellery or long fingernails can damage the condom. Condoms should only ever be used if the foil wrapper is unopened and has not been damaged or tampered with.
Putting the condom on: Pinch the reservoir tip with your thumb and index finger to remove any air pockets. Then pull back the foreskin and fully unroll the condom, starting from the reservoir, over the erect penis before there is any contact between the penis and vagina. If the condom does not unroll easily, it is likely to be inside out. In this case, do not turn the condom over as there is a risk of contact with prematurely produced sperm. Always use a new condom and make sure you unroll it in the right direction (reservoir up). It can be helpful to practice putting on a condom in advance so that when it comes to actually having sex you will both feel more comfortable.
Taking the condom off: Withdraw the penis from the vagina before it becomes flaccid. Hold on to the condom at the base of the penis, whilst carefully removing the penis from the vagina, this will prevent the condom from slipping off.
Disposal: Used condoms should be disposed of in a waste bin, they should not be flushed down the toilet. Always wash your penis and hands before continuing love play. Condoms are designed for single use only.
Ingredients
Pack contents: 12 x condoms. Nominal width approx. 52mm, Wall thickness 0.1mm, Length exc teat 175mm
Suitable for / Cautions
Suitable For
When used properly, condoms are reliable and natural way to prevent pregnancy and transmission of sexually transmitted infections (STIs) during vaginal intercourse. However, no form of contraceptive is 100% guaranteed to prevent unwanted pregnancy and STIs.
Cautions/Allergies
BILLY BOY strongly advise against using fat or oil-based products (e.g. Vaseline, baby oil, body lotion, massage oils, cooking oils) as additional lubricants. These may affect the condom and risk causing it to tear. If a lubricant is required, it has to be approved for use with condoms; all BILLY BOY lubricants are approved for this purpose. Always read the instructions when using vaginal suppositories. If prescription or over-the-counter drugs (ointments, gels) are applied in the area of the penis or vagina, it is recommended to consult a doctor or pharmacist about their compatibility with condoms. If intimate jewellery is worn during intercourse, there is an increased risk of damaging the condom.
Great Combinations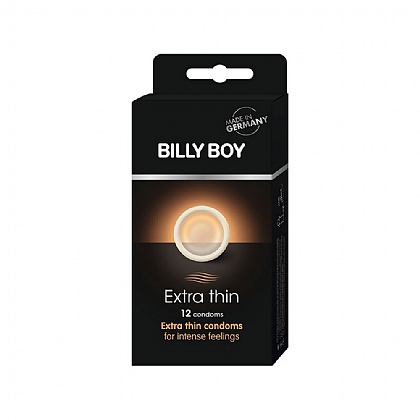 BILLY BOY Extra Thin Condoms
BILLY BOY Extra Thin is our thinnest condom, featuring a wall thickness of just 0.
£9.02
RRP £9.49
Save £0.47 (5% OFF)
View Product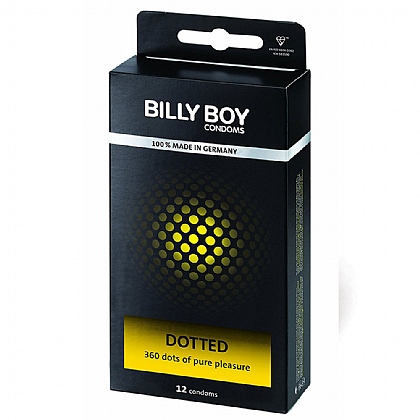 BILLY BOY Dotted Condoms
BILLY BOY Dotted condoms are ideal for those couples who want a bit more excitement in the bedroom.
£9.02
RRP £9.49
Save £0.47 (5% OFF)
View Product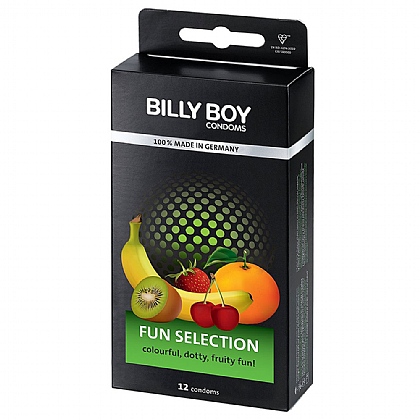 BILLY BOY Fun Selection Condoms
For those who want a bit more fun in the bedroom, Fun Selection includes a fruity strawberry and orange fragranced condoms, dotted condoms for intense stimulation and green coloured condoms.
£9.02
RRP £9.49
Save £0.47 (5% OFF)
View Product
You Could Also Consider These Condoms Products