NiQuitin Pre-Quit Clear 21mg Patch 7 Patches
Nicotine NiQuitin Pre-Quit Clear 21 mg patches are part of a gradual programme, to ease you into cutting your intake and then stopping. Gradual way to quit
For smokers of 10 or more a day
Stop smoking aid
Helps overcome your urge to smoke
For smokers of 10 or more a day
One week supply
Product Information
Usage
How To UseAdults (18 years and over)Apply one patch to the skin once a day, preferably on waking.NiQuitin Pre-Quit Clear patches are intended to be used for 24 hours but can be removed before bed (after 16 hours) if preferred.Full instructions are given in the enclosed leaflet.NiQuitin Pre-Quit Clear patches are intended for 2-4 weeks use to prepare you for stopping smoking completely. Once you have completed the NiQuitin Pre-Quit programme, you should stop smoking completely and move on to the NiQuitin step down patch programme starting at step 1, week 1.Please read the enclosed leaflet carefully before using this product.You are more likely to quit smoking when using this product with help from a healthcare professional or support programme.Pre-QuitPre-Quit 21 mg Patch2-4 weeks once dailyContinue to smoke as neededQuitNiQuitin step down patch programmeStop SmokingStep 1 21 mg Patch - 6 weeks once dailyStep 2 14 mg Patch - 2 weeks once dailyStep 3 7 mg Patch - 2 weeks once dailyDispose of patch carefully then wash hands with water only, as instructed in the leaflet.
Ingredients
Each Patch contains 114 mg Nicotine and delivers 21 mg Nicotine in 24 hours. For application to the skin
Suitable for / Cautions
Suitable For
Cautions/Allergies
Do Not UseIf you are allergic to any of the ingredients listed in the leaflet.If you are a non-smoker, an occasional smoker or under 18 years old.If you are in hospital because of heart problems unless your doctor tells you to.Consult a Healthcare ProfessionalIf you have serious liver or kidney disease, uncontrolled overactive thyroid gland or phaeochromocytomaBefore use if you are pregnant or breast-feedingIf you get a persistent skin reaction, remove the patch and tell your doctorIf you have not been able to cut down your cigarettes after 4 weeks of using the patchesKeep out of the reach and sight of children.
Great Combinations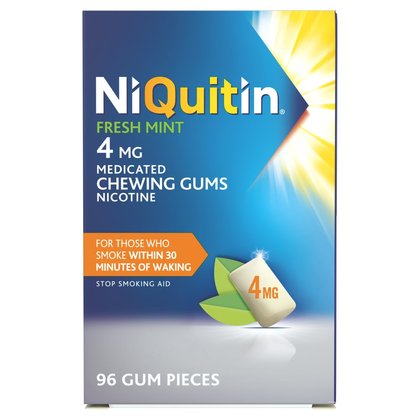 NiQuitin Mint 4mg Gum - 96
Convenient on-the-go relief. Helps overcome your urge to smoke. 4mg
£12.73
RRP £13.40
Save £0.67 (5% OFF)
View Product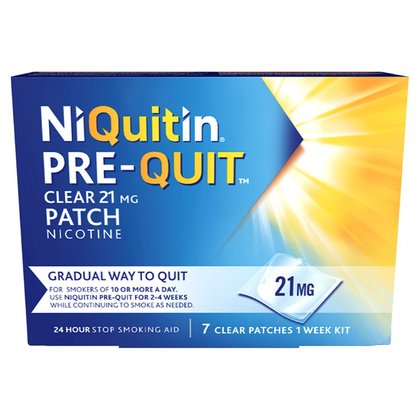 NiQuitin Pre-Quit Clear 21mg Patch 7 Patches
Nicotine NiQuitin Pre-Quit Clear 21 mg patches are part of a gradual programme, to ease you into cutting your intake and then stopping.
£14.85
RRP £15.63
Save £0.78 (5% OFF)
Add to basket
You Could Also Consider These Nicotine Patches Products