NiQuitin Clear Step 3 Patch - 7mg
Helps overcome your urge to smoke
24 hour action
Final stage of a three step program
Helps overcome your urge to smoke
24 hour action
Final stage of a three step program
Product Information
NiQuitin Clear Step Patches are a nicotine replacement therapy that are specially designed for those involved in the NiQuitin Clear programme. This programme is designed to help you stop smoking and consists of three steps which you need to follow (in the order of step 1 - 3) in order to successfully complete the programme.


Description
NiQuitin Clear Step Patches release nicotine as soon as they are applied. Each patch has been designed to supply your body with the correct amount of nicotine required depending on what stage of quitting you are at. These patches can be worn for 16 hour or up to 24 hours to help protect against morning cravings. As you move through each step, the amount of nicotine released from the patches decreases and your body's reliance on nicotine lowers too.
Usage
NiQuitin Clear patches should be applied once a day, at the same time each day and preferably soon after waking, to a non-hairy, clean, dry skin site and worn continuously for 24 hours. The NiQuitin Clear patch should be applied promptly on removal from its protective sachet. Avoid applying to any skin which is broken, red or irritated. After 24 hours the used patch should be removed and a new patch applied to a fresh skin site. The patch should not be left on for longer than 24 hours. Skin sites should not be reused for at least seven days. Only one patch should be worn at a time.
Ingredients
Ethylene/Vinyl Acetate Copolymer. Polyethylene Terephthalate. Polyethylene Film. Polyisobutylene. Printing Ink. Delivers 7mg of Nicotine.
Suitable For
Suitable For adults over the age of 18 years.
Cautions/Allergies
For external use only. Keep out of the reach and sight of children. Not suitable for those under the age of 18 years. Do not use patches if you are a non-smoker or occaisonal smoker. Do not use if you are allergic to any of the listed ingredients. Pregnant & breastfeeding women should seek medical consultation before using these patches. Seek medical consultation if you suffer from diabetes.
Frequently Asked Questions (0)
You Could Also Consider These Nicotine Patches Products
Great Combinations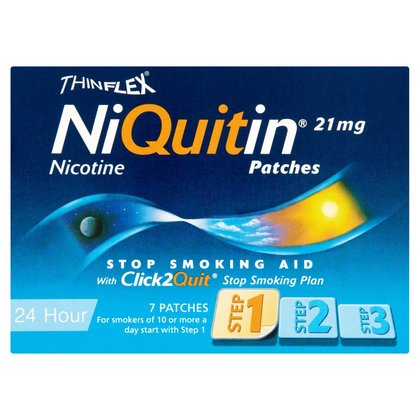 NiQuitin 21mg Patches 24 Hour Step 1 7 Patches
NiQuitin Patches contain 21mg of nicotine which is released over a 24 hour period to provide day and night relief from cravings.
£14.85
RRP £15.63
Save £0.78 (5% OFF)
View Product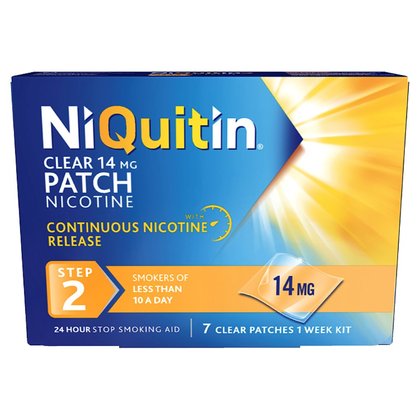 NiQuitin Clear Step 2 Patch - 14mg
Helps overcome your urge to smoke. 14mg
£14.85
RRP £15.63
Save £0.78 (5% OFF)
View Product