Nurofen Long Lasting Pain Relief Capsules - 24
Effective relief of back, muscular and rheumatic pain
Prolonged release capsules
Up to 12 hours relief
Effective relief of back, muscular and rheumatic pain
Prolonged release capsules
Up to 12 hours relief
Product Information
Nurofen Long Lasting Pain Relief Capsules help relief from back pain, muscular pain and rheumatic pain. Nurofen gives sufferers effective, powerful lasting relief. They have been specifically designed to slowly release the active ingredient, ibuprofen, at the source of your pain.


Description
Nurofen Long Lasting Pain Relief Capsules contain the active ingredient ibuprofen 300mg, a nonsteroidal anti-inflammatory drug (NSAID). It is ideal for targeting back pain as it works by reducing hormones that cause inflammation and pain in the body. Ibuprofen can also be used to treat a fever, headache, toothache, back pain, arthritis or menstrual cramps. The sustained release formulation found in Nurofen Long Lasting Pain Relief Capsules means that they effectively relieve pain and reduce inflammation for up to 12 hours.
Usage
Adults, the elderly and children aged 12 years and over : take 1 or 2 capsules twice daily. The capsules should be taken together with water and swallowed whole. Do not chew or suck the capsules.
Leave at least 8 hours between doses. Do not take more than 4 capsules in any 24 hour period.
Ingredients
Each capsule contains the active ingredient Ibuprofen 300mg. They also contain: Sucrose and Maize starch microgranules, Polymers of Methacrylic Acid Esters, Povidone, Polymers of Acrylic and Methacrylic Acid Esters, Talc, Colloidal Silica, Gelatine, Iron Oxide Ink (E172).
Suitable For
Adults and children over the age of 12 years.
Cautions/Allergies
Do not exceed the stated dose.
Keep out of the sight and reach of children.
Not suitable for those under the age of 12 years.

Do not take is you:
Have ever had a stomach ulcer, perforation or bleeding.
Are allergic to Ibuprofen (or anything else in this medicine), aspirin or other related painkillers.
Are taking other NSAID painkillers or aspirin with a daily dose above 75mg.
Are in the last 3 months of pregnancy.

Speak to a pharmacist/doctor before taking if you:
Have or have had asthma, diabetes, high cholesterol, high blood pressure, a stroke, heart, liver, kidney or bowel problems or are dehydrated.
Are a smoker.
Are pregnant.
Frequently Asked Questions (0)
You Could Also Consider These Back Pain Products
Great Combinations
Nurofen Cold & Flu Relief 200mg/5mg Tablets 16 Tablets
Nurofen Cold &Flu Relief 200mg/5mg tablets contain ingredients which are effective in relieving the symptoms associated with cold and flu including, relief of aches and pains, sore throats, headaches nasal congestions and lowering temperature.
£4.29
Add to basket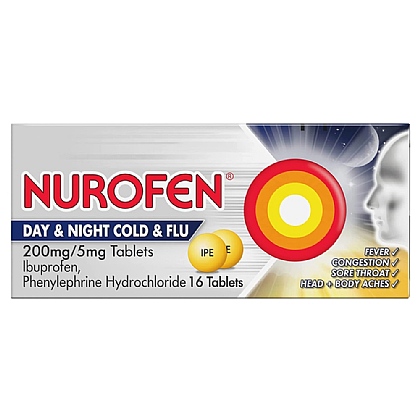 Nurofen Day and Night Cold & Flu Tablets - 16
Targets congestion and cold & flu symptoms. Contains ibuprofen & phenylephrine hydrochloride.
£5.22
RRP £5.49
Save £0.27 (5% OFF)
View Product