Movelat Relief Cream - 125g
Double action
Soothes and relieves muscular and rheumatic pain
Suitable from 12 years
Double action
Soothes and relieves muscular and rheumatic pain
Suitable from 12 years
Product Information
Movelat Relief Cream has been formulated for the local relief of pain and inflammation caused by rheumatic and muscular pain, stiffness, sprains, strains and mild arthritic conditions.


Description
Movelat Relief Cream is a mild to moderate, anti-inflammatory and analgesic (pain-relieving) preparation, which contains the active ingredients mucopolysaccharide polysulphate (MPS) and salicylic acid. Both ingredients work together, as salicylic acid gently softens the skin to allow an easy absorption of mucopolysaccharide polysulphate into the inflamed and painful tissues. This unique formula delivers a clinically proven anti-inflammatory exactly where it is required, providing powerful pain relief for aching joints and muscles.

When applied to the skin at the source of the pain, Movelat Relief Cream can help to soothe and relieve muscular pain. Because Movelat is applied to the skin at the site of pain, less of the medicine circulates in the body, meaning there is less risk of the side effects that can be associated with taking some oral painkillers. Don't let aches and pains hold you back from your daily routine, move on with Movelat!
Usage
Adults, the elderly and children over 12 years: unless otherwise directed, apply 2 - 6 inches (5 - 15 cm) of cream to the affected area up to four times daily.
Ingredients
The active substances are: mucopolysaccharide polysulfate 0.2% w/w, salicylic acid 2.0% w/w. The other ingredients are: glycerol 85%, stearic acid, anhydrous eucerine (contains lanolin), myristyl alcohol, emulsifying cetostearyl alcohol, ethanolamine, thymol, isopropyl alcohol, purified water.
Suitable For
Suitable For adults, the elderly and children over 12 years.
Cautions/Allergies
Do not exceed the stated dose. Keep out of the reach and sight of children. Not suitable for children under 12 years of age. Store below 25C.
Frequently Asked Questions (0)
You Could Also Consider These Joint & Muscle Pain Products
Great Combinations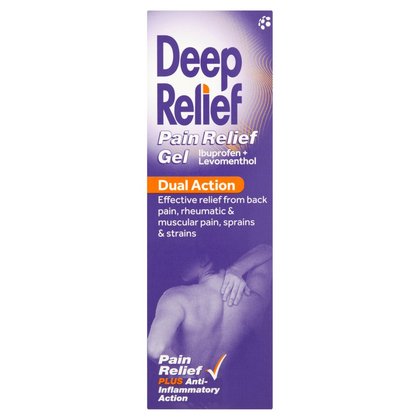 Deep Relief Gel - 50g
Non-greasy. Reduces inflammation & helps alleviate pain. Cooling & soothing. Light menthol fragrance.
£5.69
RRP £5.99
Save £0.30 (5% OFF)
View Product