Product Information
Deep Heat Patches have been designed to relieve muscular aches and pains, joint stiffness, strains and sprains.


Description
Deep Heat Patches are an effective non-medicinal alternative to Deep Heat rub and Deep Heat spray. Upon opening, these heat patches are odourless and air activated, and can be placed directly onto the skin at the site of pain. The patch activates within one minute and will heat up within five minutes to provide soothing and penetrating warmth for up to eight hours. Once removed, the Deep Heat Patch can continue to provide pain relief for a further eight hours. The Deep Heat Patch provides therapeutic heat which helps reduce pain by giving a targeted analgesic effect right to the site of pain. Heat therapy is well recognised and recommended by health care professionals for muscular pain and stiffness. Heat increases blood flow to the affected area providing oxygen and nutrients to aid the healing process.
Usage
Use on clean, dry skin. Remove protective film from patch and apply patch to the affected area, adhesive side onto skin. For delicate or ageing skin, apply adhesive side of patch to clothing. Do not bandage over the patch. The patch will heat up after 5 minutes and remain warm for up to 8 hours. Use only one patch on the same area in 24 hours.
Ingredients
Contains 4 hinged patches.
Suitable For
Suitable For adults.
Cautions/Allergies
For external use only. Keep out of the reach and sight of children. Do not use on the face or on broken skin, bruises or swellings. For single use only, do not attempt to reheat in oven or microwave. Do not cut, massage, fold or wet the patch. Do not use if the patch is damaged or torn. Not suitable for infants, children, or persons unable to remove the patch on their own.
Frequently Asked Questions (0)
You Could Also Consider These Joint & Muscle Pain Products
Great Combinations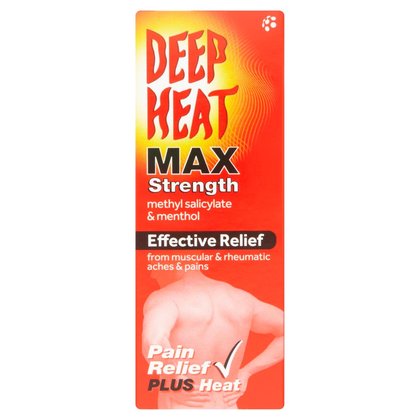 Deep Heat Maximum Strength Mentholatum Cream - 35g
Maximum strength. Generates penetrating warmth. Treats several types of pain.
£4.55
RRP £4.79
Save £0.24 (5% OFF)
View Product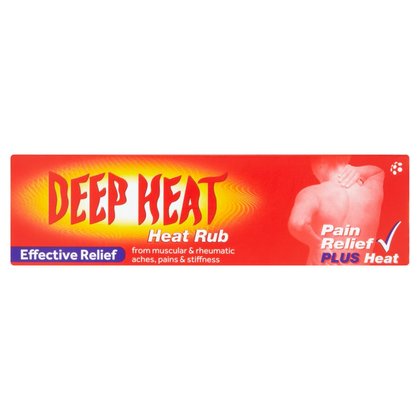 Deep Heat Cream Rub - 67g
Non greasy. Fast relief from muscular aches & pains. With penetrating warmth.
£3.70
RRP £3.89
Save £0.19 (5% OFF)
View Product