Deep Heat Muscle Rescue Neck & Shoulder Cream 50g
Deep Heat Muscle Rescue Neck and Shoulder Cream has a gentle warming effect which eases muscular tension. It combines this heating effect with the benefit of gentle massage and has a pleasant fragrance.
Warming cream
Includes special applicator
Rosemary and vanilla fragrance
Product Information
Usage
Directions for Use:
Pull cap off. Squeeze cream onto applicator. Massage into required area. On first application apply sparingly as people may experience warmth differently. If stronger effect is desired, reapply as necessary. Use as required.
Ingredients
Aqua, Cetearyl Alcohol, Sodium Cetearyl Sulfate, Rosmarinus Officinalis Leaf Oil, Paraffinum Liquidum, Propylene Glycol, Vanillyl Butyl Ether,Phenoxyethanol, Limonene, Linalool
Suitable for / Cautions
Suitable For
Lower Age Limit Advisory - 12 Years
Cautions/Allergies
CautionsIn case of contact with eyes or if irritation occurs, rinse well with water and seek medical advice. Keep away from children. Do not use on under 12's. Do not use on broken or irritated skin. Do not use if pregnant or breastfeeding.
Great Combinations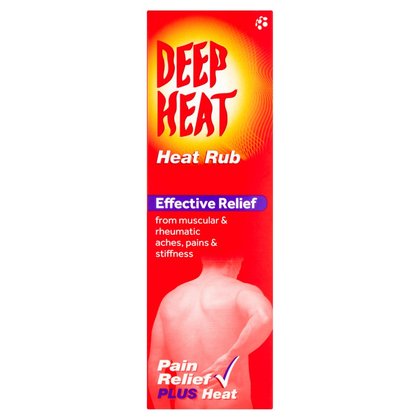 Deep Heat Cream Rub - 100g
Non greasy. Fast relief from muscular aches & pains. With penetrating warmth.
£4.93
RRP £5.19
Save £0.26 (5% OFF)
Add to basket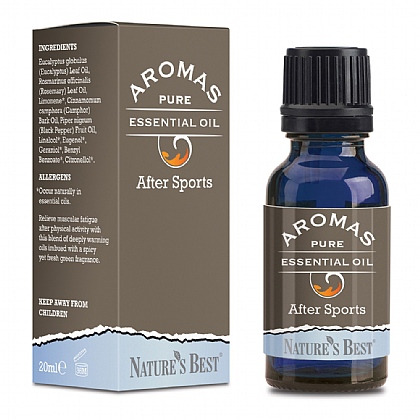 After Sports Blend
Light and easily absorbed
Expertly blended traditional warming oils of camphor and eucalyptus together with uplifting rosemary and black pepper oil to relieve muscular fatigue
£3.95
Add to basket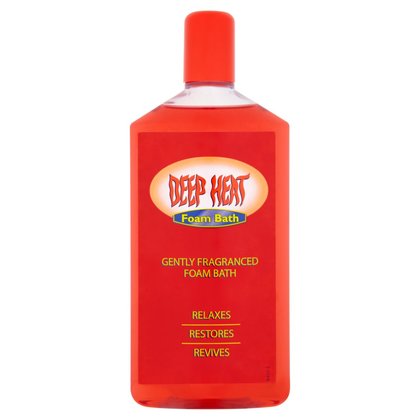 Deep Heat Bath Tonic - 350ml
Deep Heat muscle rescue bath tonic. Eases everyday stress & muscular tension. Helps circulation, as well as anxiety.
£3.33
RRP £3.50
Save £0.17 (5% OFF)
View Product
You Could Also Consider These Joint & Muscle Pain Products