Deep Freeze Cold Gel 2% - 100g
Deep Freeze Cold Gel is a pain relieving gel to be applied to the skin. It is used for the relief of aches and pains of the muscles, tendons and joints.
Pain relieving gel
Combines the benefits of cold treatment and massage
Suitable from the age of 5 years
Product Information
Description
Deep Freeze Cold Gel contains the active ingredient racemic menthol 2% w/w, which works by cooling the skin and bringing about rapid pain relief. Deep Freeze Gel combines the proven principle of cold treatment with the benefit of gentle muscle massage. It can be used during or immediately after exercise to help relieve bumps and strains. Deep Freeze Cold Gel should ideally be applied as soon as an injury occurs, so you can help relieve the pain without taking a lot of time out of your favourite sporting activity. Immediate application of cold therapy after a minor injury, knock or sprain instantly helps reduce pain and swelling. Timely treatment may also help minimise tissue damage too.
Usage
Adults and children over 5 years: Always try on a small area first. Gently massage gel to the affected area until it is rubbed in. Apply 3 - 4 times daily. Always wash your hands immediately after use so that you do not transfer it to sensitive areas such as your lips or eyes.
Ingredients
Methyl Hydroxybenzoate (E218). Propyl Hydroxybenzoate (E216). Patent Blue V E131. Purified Water.
Suitable for / Cautions
Suitable For
Suitable For adults and children over the age of 5 years.
Cautions/Allergies
Keep out of the reach and sight of young children. Not suitable for children under the age of 5 years. Do not use the gel more than 4 times in one day. Do not use after the expiry date which is printed on the tube and carton. The æexpiryÆ date refers to the last day of that month.Take any Deep Freeze Cold Gel that is out of date to a pharmacist for disposal.
Great Combinations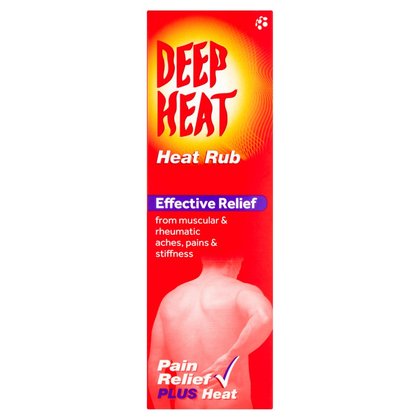 Deep Heat Cream Rub - 100g
Non greasy. Fast relief from muscular aches & pains. With penetrating warmth.
£4.93
RRP £5.19
Save £0.26 (5% OFF)
Add to basket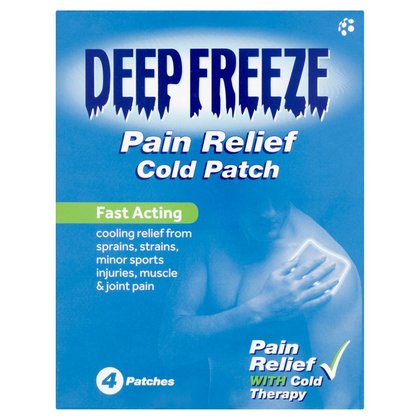 Deep Freeze Cold Patch - 4
Drug-free cooling pad. Relieves the symptoms of aches and pains.
£5.22
RRP £5.49
Save £0.27 (5% OFF)
Add to basket
You Could Also Consider These Joint & Muscle Pain Products