Anadin Ibuprofen Tablets - 16
Anadin Ibuprofen Tablets contain 200mg of ibuprofen in every tablet. These tablets are an ideal treatment for mild illness without a doctorÆs help, or for back pain, joint or rheumatic pain, muscle ache, headaches and migraine.
Effective pain relief
suitable from the age of 12
Convenient tablet form
Product Information
Usage
Adults and children over the age of 12 years: take 1 - 2 tablets every 4-6 hours as required. Do not take more than 6 tablets in any 24 hour period.
Ingredients
Ibuprofen. Maize Starch. Pregelatinised Starch. Colloidal Silica Anhydrous. Stearic Acid. Sucrose. Macrogol 6000. Povidone K30. Polysorbate 80. Talc. Calcium Carbonate. Titanium Dioxide. Carnauba Wax. Opacode Black Ink (Shellac, Iron Oxide Black (E172), Propylene Glycol & Ammonium Hydroxide).
Suitable for / Cautions
Suitable For
Suitable For adults and children over the age of 12 years.
Cautions/Allergies
Keep out of the reach and sight of children. Not suitable for children under the age of 12 years. Do not exceed the stated dose. In the event of an overdose, seek immediate medical consultation. Do not use after the expiry date shown on the end of the carton. Do not store above 25¦C.
Great Combinations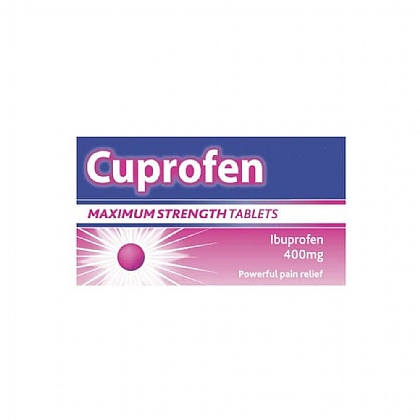 Cuprofen Maximum Strength Tablets - 48
Maximum strength. Contains 400mg ibuprofen. Fast powerful pain relief. Treats dental, period pains & backache.
£4.27
RRP £4.49
Save £0.22 (5% OFF)
Add to basket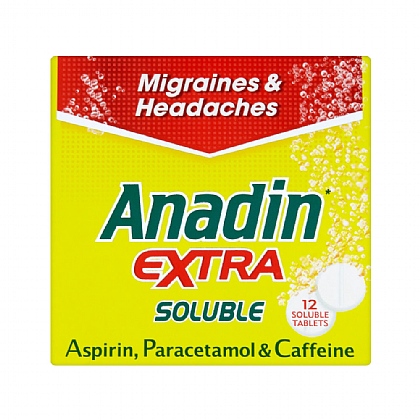 Anadin Extra Soluble 12 Soluble Tablets
Anadin Extra Soluble Tablets are suitable for adults and teenagers over the age of sixteen years, who have trouble swallowing tablets.
£3.43
RRP £3.61
Save £0.18 (5% OFF)
View Product
You Could Also Consider These Joint & Muscle Pain Products