Orajel Dental Gel 5.3g
Relief from toothache
Fast acting
Suitable from 12 years
Relief from toothache
Fast acting
Suitable from 12 years
Product Information
Orajel Dental Gel contains a local anasthetic to provide taregeted relief from toothache.


Description
Orajel Dental Gel provides quick alleviation when and where you require it most. The active ingredient, 10% w/w benzocaine, is a powerful local anaesthetic that works by temporarily blocking the pathway of pain signals along the nerves, and relieves pain by numbing the area.Orajel Dental Gel goes right to the source of your pain to provide targeted relief. It works to reduce pain associated with a broken tooth or in a tooth that may require a filling, until you can book an appointment with your dental specialist.
Usage
Ingredients
are Polyethylene Glycol 3350, Chlorothymol, Eugenol, Macrogol 400, Propylene Glygol (E1520), Sorbic Acid (E200), Sodium Saccharin (E954), Colour (E129), Purified Water, Passion Fruit Flavour
Suitable For
Adults & Children 12 years and over: For topical oral use. Remove cap and cut open tip of tube. With a clean finger or swab, apply a small amount of gel (about the size of a green pea) to the affected area inside the mouth. Do not use in children under the age of 12 years. Use up to 4 times daily. Do not use if tube is damaged. For short term use only, do not use for more than 4 days at a time. If pain persists consult your doctor, dentist or pharmacist.
Cautions/Allergies
Keep out of reach and sight of children.
Do not exceed recommended dose.
Read enclosed leaflet before use.
Frequently Asked Questions (0)
You Could Also Consider These Mouth Ulcers Products
Great Combinations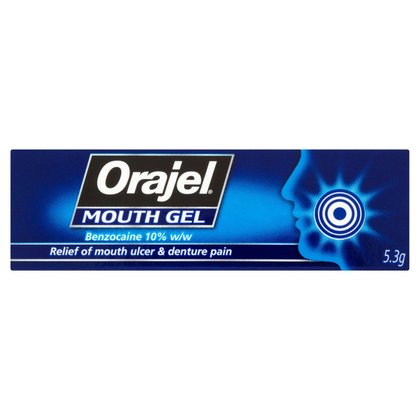 Orajel Mouth Gel 5.3g
Orajel Mouth Gel contains a local anasthetic to provide taregeted relief from mouth ulcers and denture pain.
£3.79
RRP £3.99
Save £0.20 (5% OFF)
View Product