Iglu Sugar Free Pastilles - 24
Soothing relief
Sugar free
Suitable from 3 years
Soothing relief
Sugar free
Suitable from 3 years
Product Information
Iglu Sugar Free Pastilles are a soothing mouth ulcer medicine that dissolve quickly in the mouth, providing a pain-relieving, antiseptic treatment.


Description
As each sugar free pastille dissolves in the mouth, they release active ingredients with antiseptic properties to help fight infection. At the same time, they provide a cooling sensation that helps soothe your mouth and gums.
Usage
Adults and children over 3 years: Take 1 pastille and dissolve in the mouth every 2 hours. Do not take more than 8 pastilles in 24 hours.
Ingredients
: Benzalkonium Chloirde Solution and Compund Benzoin Tincture.
Suitable For
Suitable For adults, the elderly and children over 3 years of age.
Cautions/Allergies
Do not use if you allergic to any of the listed ingredients. Do not exceed the stated dose. Keep out of the reach and sight of children
Frequently Asked Questions (0)
You Could Also Consider These Mouth Ulcers Products
Great Combinations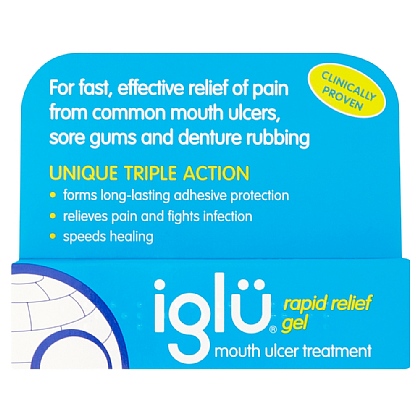 Iglu Rapid Relief Gel - 8g
Quickly relieves pain from mouth ulcers, sore gums and denture rubbing. Fast and effective. Forms long-lasting protective coating. Speeds healing.
£6.12
View Product