Iglu Mouth Ulcer Treatment Gel - 8g
Anti-septic pain relief
Triple action
Fast acting
Anti-septic pain relief
Triple action
Fast acting
Product Information
Iglu Mouth Ulcer Treatment Gel is a fast-acting mouth ulcer medicine, which provides a pain-relieving, antiseptic and long-lasting protective coating.


Description
Iglu Gel is a fast and effective, antiseptic mouth ulcer treatment that forms a protective barrier over the ulcer to ensure no further irritation and damage. This long lasting gel helps to speed up the healing process and can be used to treat sore gums and denture rubbing too. Providing protection for over an hour, try applying Iglu Gel before eating and drinking for a comfortable dining experience.
Usage
Adults, the elderly and children over 7 years of age: Apply Iglu Gel sparingly to each ulcer, using a single wiping action. Re-apply as necessary to keep the affected area(s) protected with a thin layer of gel.
Ingredients
The active ingredients are lidocaine hydrochloride monohydrate (0.66% w/w) and aminoacridine hydrochloride (0.05% w/w).The other ingredients are carbomer, hydroxypropylcellulose, white soft paraffin, liquid paraffin and peppermint oil.
Suitable For
Suitable For adults, the elderly and children over 7 years of age.
Cautions/Allergies
For use in the mouth. Replace cap tightly after use. Do not use if you allergic to any of the listed ingredients. Keep away from the eyes. Keep out of the reach and sight of children. Do not store above 25C.
Frequently Asked Questions (0)
You Could Also Consider These Mouth Ulcers Products
Great Combinations
Iglu Sugar Free Pastilles - 24
Relieves pain from mouth ulcers and sore gums. Sugar Free. Soothing.
£5.81
RRP £6.12
Save £0.31 (5% OFF)
View Product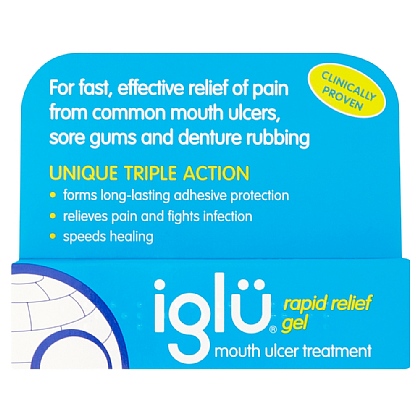 Iglu Rapid Relief Gel - 8g
Quickly relieves pain from mouth ulcers, sore gums and denture rubbing. Fast and effective. Forms long-lasting protective coating. Speeds healing.
£6.12
Add to basket