Anbesol Liquid is a sugar-free, antiseptic and anaesthetic that has been formulated for the temporary relief of pain from recurrent mouth ulcers, denture irritation and babies' teething.
Relieves pain from teething
mouth ulcers or dentures
Antiseptic and anaesthetic effects
Sugar free
Product Information
Usage
Adults, the elderly and children: apply undiluted to the affected are with a clean fingertip. Two applications immediately will normally be sufficient to obtain pain relief. Can be used up to 8 times a day. For babies' teething: wet a clean finger-tip and spread gently onto the sore area of the gum. One application will be sufficient. Do not repeat application for at least half an hour. Can be used up to 8 times a day.
Ingredients
Lidocaine Hydrochloride. Chlorocresol. Cetylpyridinium Chloride. Alcohol. Menthol. Glycerin. Water. Colourants: E104, E110, E123, E142.
Suitable for / Cautions
Suitable For
Suitable For adults, the elderly and young children.
Cautions/Allergies
Keep out of the reach and sight of children. Do not exceed the stated dose. Flammable - keep away from naked flames. Store at a temperature not exceeding 25ªC. If symptoms persist for more than seven days seek medical and/or dental consultation.
Great Combinations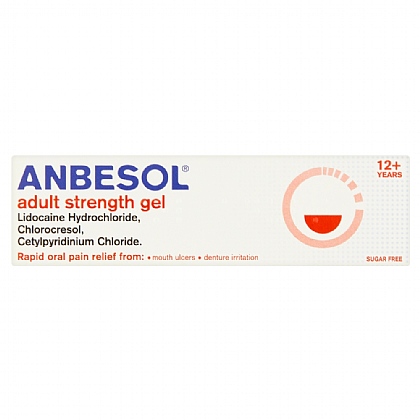 Anbesol Adult Strength Gel - 10g
Provides rapid relief from mouth ulcers, teething pains & denture irritation. Contains Lidocaine Hydrochloride, Chlorocresol & Cetylpyridinium Chloride.
£3.03
RRP £3.19
Save £0.16 (5% OFF)
View Product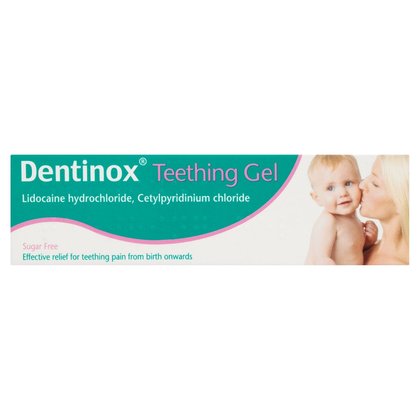 Dentinox Teething Gel - 15g
Sugar free. Provides effective relief for teething pain from birth onwards. Numbs pain. Contains Lidocaine Hydrochloride.
£2.27
RRP £2.39
Save £0.12 (5% OFF)
Add to basket
You Could Also Consider These Mouth Ulcers Products