Nurofen 200mg Tablets
Headaches and migraine
Non-serious arthritic pain
Cold and flu symptoms
Headaches and migraine
Non-serious arthritic pain
Cold and flu symptoms
Product Information
Nurofen contains Ibuprofen for rapid relief from pain.





Description
Nurofen 200mg Tablets were originally the first product to be launched from the Nurofen range, and are still recognised today in over twenty-three countries as the first choice for pain relief. These small, white round tablets contain the active ingredient, ibuprofen, which belongs to a group of medicines known as non-steroidal anti-inflammatory drugs (NSAIDs). NSAIDs provide relief by changing the body's response to pain, swelling and high temperature.

Nurofen Tablets provide fast and effective relief for pain, and are suitable for adults and children over the age of twelve years. If you are suffering from mild to moderate pains, including headaches, migraines, cold & flu symptoms, fever, period pain, muscular and rheumatic pain, toothache & back pain, then Nurofen is the ideal solution!
Usage
For oral administration and short-term use only. Adults and children over 12 years of age: take 1 or 2 tablets with water, up to three times a day as required. Leave at least 4 hours between doses. Do not exceed 6 tablets in 24 hours. Do not give to children under 12 years of age.
Ingredients
Active ingredient: Ibuprofen 200mg. See leaflet for full list.
Suitable For
Suitable for adults and children aged over 12 years.
Cautions/Allergies
Do not take if you: have (or have had two or more episodes of) a stomach ulcer, perforation or bleeding, are allergic to ibuprofen, to any of the ingredients, or to aspirin or other painkillers, are taking other NSAID pain killers or aspirin with a daily dose of 75mg. Speak to a pharmacist/doctor before taking if you: have or have had asthma, diabetes, high cholesterol, high blood pressure, a stroke, heart, liver, kidney or bowel problems, are a smoker, are pregnant. Do not exceed the stated dose. Keep out of the reach and sight of children.
Frequently Asked Questions (0)
You Could Also Consider These Pain Relief Products
Great Combinations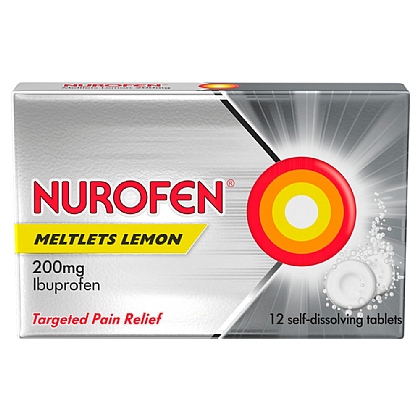 Nurofen Meltlets Lemon Tablets - 12
Contains ibuprofen. Provide fast effective relief from mild to moderate pain. Gluten-free. Lactose-free.
£3.80
RRP £3.99
Save £0.19 (5% OFF)
View Product