Product Information
Calgel Teething Gel has a mild antiseptic action, which acts quickly to help relieve teething pain and soothes infant gums.


Description
Calgel Teething Gel has a herbal flavouring and is sugar free too!
Usage
Place a small quantity of gel, approximately 7.5mm onto a clean pad of cotton wool or the tip of a clean finger. Gently rub onto the affected area of the gum. If necessary repeat after 20 minutes, up to 6 times in 1 day.
Ingredients
Active Ingredients: Lidocaine Hydrochloride 0.33% w/w, Cetylpyridinium Chloride 0.10% w/w.
Other Ingredients: Sorbitol Solution 70% (E420), Xylitol (E967), Ethanol, Glycerol, Hydroxyethyl Cellulose 5000, Macrogolglycerol Hydroxystearate (Castor Oil Polyoxyl Hydrogenated), Macrogol Lauryl Ether 9, Macrogol 300, Saccharin Sodium, Levomenthol, Citric Acid Monohydrate, Sodium Citrate Dihydrate, Pharmaceutical Liquid Flavour, Caramel (E150), Purified Water.
Suitable For
Suitable for babies from the age of 3 months.
Cautions/Allergies
For oral use only.
Keep out of the reach and sight of children.
Do not exceed the recommended daily dose.
Frequently Asked Questions (0)
You Could Also Consider These Pain Relief Products
Great Combinations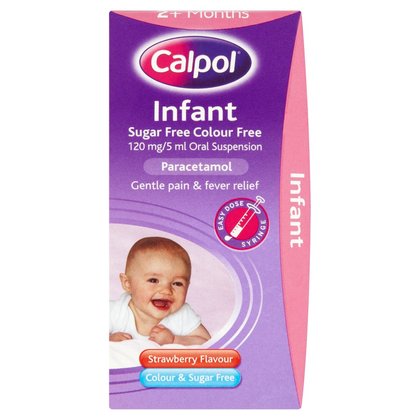 Calpol Infant Sugar Free Colour Free 120 mg/5 ml Oral Suspension Strawberry Flavour 2+ Months 100ml
Calpol Infant Sugar FreeColour free 120mg/5ml oral suspension contains paracetamol to gently reduce pain and fever in infants and young children.
£4.29
Add to basket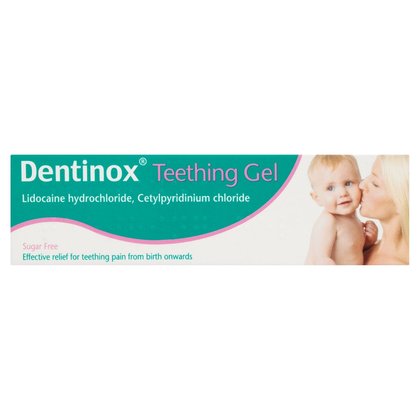 Dentinox Teething Gel - 15g
Sugar free. Provides effective relief for teething pain from birth onwards. Numbs pain. Contains Lidocaine Hydrochloride.
£2.27
RRP £2.39
Save £0.12 (5% OFF)
View Product