Nurofen Max Strength Migraine Pain Caplets - 12
Targeted relief of migraine pain
maxiumum strength
powerful rapid relief
Product ID: 5000167093742
Targeted relief of migraine pain
maxiumum strength
powerful rapid relief

Product Information
Nurofen Max Strength Migraine Pain Caplets have been specifically formulated to target migraines. Each caplet contains Ibuprofen Lysine, which is easily absorbed in the body, to provide fast acting relief.


Description
Responding quickly at the first sign of a migraine attack is essential in order to provide maximum relief. If a migraine sufferer fails to take immediate pain relief, the ability of the stomach to absorb a migraine pain reliever can be reduced, meaning it could be less effective. Nurofen Max Strength Migraine Pain Caplets contain the active ingredient, ibuprofen lysine, which belongs to a group of medicines known as non-steroidal anti-inflammatory drugs (NSAIDs). It breaks down easily in the body, making it easier to absorb into the bloodstream and so gets to work quickly.
Usage
Adults and children 12 and over: Swallow one caplet with water, then if necessary take 1 capsule every 4 hours. Do not exceed 3 caplets in 24 hours
Ingredients
Ibuprofen Lysine.
Suitable For
Suitable For adults and children over the age of 12 years.
Cautions/Allergies
Do not exceed the stated dose. Keep out of the sight and reach of children. Not suitable for those under the age of 12 years. Pregnant and breastfeeding women should seek medical consultation before using this medicine.
You Could Also Consider These Headache & Migraine Products
Great Combinations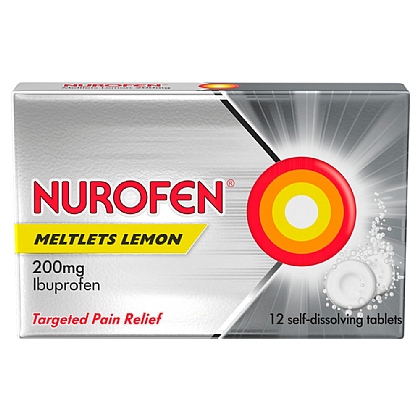 Nurofen Meltlets Lemon Tablets - 12
Contains ibuprofen. Provide fast effective relief from mild to moderate pain. Gluten-free. Lactose-free.
£3.23
RRP £3.39
Save £0.16 (5% OFF)
Add to basket