Anadin Original 16 Tablets
Product Information
Anadin Paracetamol Tablets are particularly effective for lowering a high temperature whilst easing aches and pains that accompany fever. For relief from headaches


Description
Anadin Paracetamol Tablets are particularly effective for lowering a high temperature whilst easing aches and pains that accompany fever. Each tablet contains the active ingredient, paracetamol, which is classified as a mild analgesic. Though paracetamol is used to treat inflammatory pain, it is not generally classified as an NSAID because it exhibits only weak anti-inflammatory actions.

Suitable for all the family, including children over six years of age, Anadin Paracetamol tablets are easy on the stomach and are ideal for cold and flu symptoms, aches & pains, headache, migraine, feverishness, toothache, period pain, rheumatic pain, neuralgia, and a sore throat.
Usage
Adults, the elderly and young persons aged 16 and over: Take 1 or 2 tablets with a drink of water. Repeat every 4 hours as required.
Do not give to children aged under 16 years, unless on the advice of a doctor.
If symptoms persist for more than 3 days consult your doctor.

Do not exceed the stated dose.

Ingredients
Each Tablet contains: Aspirin BP 325 mg,Caffeine Ph Eur 15 mg.
Suitable For
Adults, the elderly and young persons aged 16 Please read the information leaflet enclosed before use.
Cautions/Allergies

Contains aspirin do not take more than 12 tablets in 24 hours.
Do not take if: You are allergic to aspirin or any of the other ingredients listed in the enclosed leaflet.
You have ever had a stomach ulcer, perforation or bleeding.
You have haemophilia or are taking medicines that reduce blood clotting e.g. warfarin.
You are breast-feeding.

Talk to your doctor or pharmacist before taking this medicine if you are pregnant, asthmatic or suffer from dehydration, liver or kidney problems.Max Temp C: 25
Frequently Asked Questions (0)
You Could Also Consider These Headache & Migraine Products
Great Combinations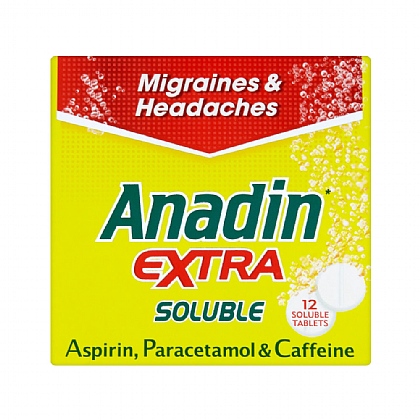 Anadin Extra Soluble 12 Soluble Tablets
Anadin Extra Soluble Tablets are suitable for adults and teenagers over the age of sixteen years, who have trouble swallowing tablets.
£3.61
Add to basket