Anadin Extra Tablets - 16
Anadin Extra Tablets are a fast-acting, pain relief medicine that are easy to swallow. They include a powerful combination of pain-relieving ingredients that get to work fast and let you get on with your life.
Effective pain relief
fast acting
combination of three active ingredient
Product Information
Usage
Adults, the elderly and children 16 years and over: swallow 2 tablets with a drink of water. Repeat every 4 - 6 hours as required. Do not take more than 8 tablets in 24 hours.
Ingredients
Aspirin. Paracetamol. Caffeine. Maize Starch. Microcrystalline Cellulose (E460). Hydrogenated Vegetable Oil. Hydroxypropyl Methylcellulose (E464). Polyethyline Glycol. Pregelatinised Starch. Povidone.
Suitable for / Cautions
Suitable For
Suitable For adults and children over the age of 16 years.
Cautions/Allergies
Keep out of the reach and sight of children. Not suitable for children under the age of 16 years. Do not exceed the stated dose. In the event of an overdose, seek immediate medical consultation. Do not use after the expiry date shown on the end of the carton. Do not store above 25¦C.
Great Combinations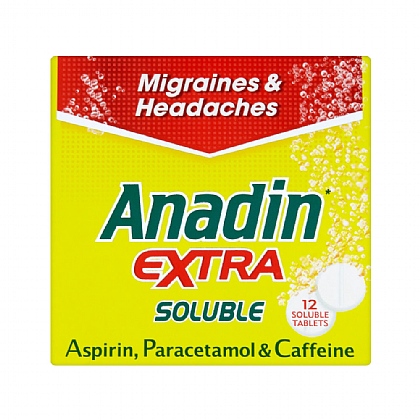 Anadin Extra Soluble 12 Soluble Tablets
Anadin Extra Soluble Tablets are suitable for adults and teenagers over the age of sixteen years, who have trouble swallowing tablets.
£3.43
RRP £3.61
Save £0.18 (5% OFF)
View Product
Anadin Original 16 Caplets
Anadin Paracetamol Tablets are particularly effective for lowering a high temperature whilst easing aches and pains that accompany fever.
£1.93
RRP £2.03
Save £0.10 (5% OFF)
Add to basket
Anadin Ibuprofen Tablets - 16
Easy to swallow tablets. Contains ibuprofen.
£1.93
RRP £2.03
Save £0.10 (5% OFF)
View Product
You Could Also Consider These Headache & Migraine Products