Flexitol Heel Balm
Visible results in 3 days
Non greasy
Free of SLS and parabens
Enriched with pro vitamin B5, vitamin E and L-arginine
Enhanced with exfoliating properties
Visible results in 3 days
Non greasy
Free of SLS and parabens
Enriched with pro vitamin B5, vitamin E and L-arginine
Enhanced with exfoliating properties
Product Information
Flexitol Heel Balm is the medically proven treatment for dry and cracked feet.


Description
Cracked and dry heels can often prove to be embarrassing and unsightly. A common cause of dry and cracked heels is due to a loss of '¬Ëœelasticity' when dryness sets in, or when the skin thickens and cracks or breaks under pressure. Flexitol Heel Balm combines the latest ingredients in skin care clinically proven to have skin nourishing properties.Flexitol Heel Balm is the ideal product for dry and cracked heels as part of a general foot care routine. This highly efficacious formulation contains 25% urea in addition to the active ingredients of lanolin, shea butter, centipeda cunninghamii and aloe vera. Lanolin helps to restore and maintain moisture balance, while shea butter moisturises and promotes softer, smoother skin. Centipeda cunninghamii is a native herb of Australia which is clinically proven to help to soften hard thickened skin, while aloe vera is renowned for its natural soothing properties. Upon application, Flexitol acts immediately and starts to show visible results within the first 3 days of use. Flexitol Heel Balm is a non-greasy and highly concentrated mositurising balm which is specifically designed to deeply penetrate into feet for optimal moisturisation and hydration. It is also suitable for use in diabetic foot care regimes, and is the most-prescribed heel balm available on the NHS.
Usage
Apply once to twice daily to dry, cracked heels and feet. Once the skin is restored continue to use to maintain condition.
Ingredients
Aqua, Urea, Lanolin, Cetearyl Alcohol, Mineral Oil, Glyceryl Stearate, Decyl Oleate, PEG-20 Stearate, Paraffin, Phenoxyethanol, Sodium PCA, Butyrospermum Parkii (Shea Butter), Allantoin, Centipeda Cunninghamii Extract, Glycolic Acid, Panthenol, Tocopheryl Acetate, Benzyl Alcohol, Melaleuca Alternifolia (Tea Tree) Oil, Arginine, Aloe Vera Gel, Parfum
Suitable For
Suitable for adults and children over the age of 12 years.
Cautions/Allergies
Stinging may occur in deep cracks. For external use only. Avoid contact with eyes. Always replace cap after use. Discontinue if local irritation or rash occurs during use.
Frequently Asked Questions (0)
You Could Also Consider These Foot Care Products
Great Combinations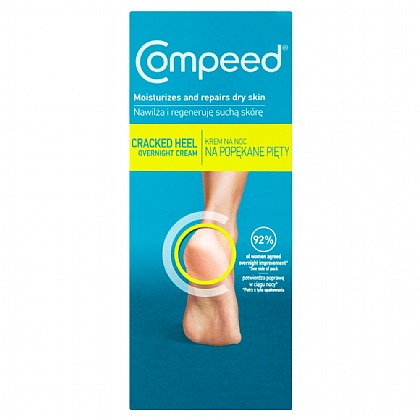 Compeed Overnight Cracked Heel cream 75ml
Compeed Overnight Cracked Heel Cream contains a unique blend of urea and lactic acid and intensively moisturises to improve the appearance of cracked heels while you sleep.
£4.73
RRP £5.38
Save £0.65 (12% OFF)
View Product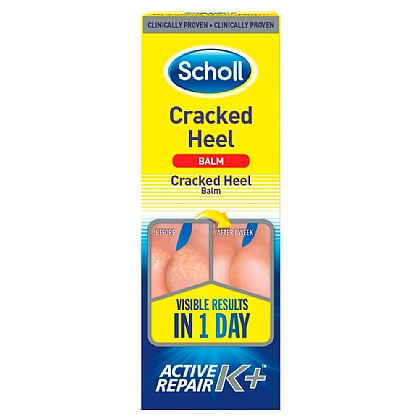 Scholl Cracked Heel Repair Cream K + - 60ml
Fast acting. Works in 7 days. Visible results in 3 days. Reduces discomfort. Helps prevent infection. Dermatalogically tested. Fragrance free. Hypoallergenic.
£5.99
Add to basket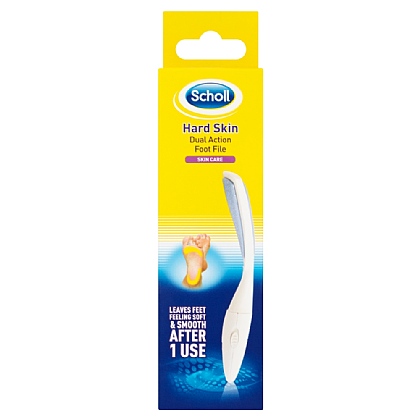 Scholl Dual Action Foot File
High performance, soft grip file. Removes rough, dry skin. Washable. Re-useable.
£4.74
RRP £4.99
Save £0.25 (5% OFF)
View Product