Canesten Cream - 20g
Soothing relief from the irritation caused by fungal infections
Also for fungal nappy rash
Product ID: 5010605054013
Soothing relief from the irritation caused by fungal infections
Also for fungal nappy rash

Product Information
Description
Canestan Cream is used to treat fungal skin infections such as ringworm, athlete's foot, fungal nappy rash and fungal sweat rash. It is also used to relieve irritation of the vulva (external thrush) or the end of the penis, which may be associated with thrush.

The active substance in Canesten Cream is clotrimazole, which belongs to a group of medicines called imidazoles. This antifungal agent kills fungi and yeasts by interfering with their cell membranes. Clotrimazole works by stopping the fungi from producing a substance called ergosterol, which is an essential component of fungal cell membranes. The disruption in production of ergosterol causes holes to appear in the fungal cell membrane. The cell membranes of fungi are vital for their survival. They keep unwanted substances from entering the cells and stop the contents of the cells from leaking out. As clotrimazole causes holes to appear in the cell membranes, essential constituents of the fungal cells can leak out. This kills the fungi and treats the infection.
Usage
Wash your hands before and after applying the cream. Apply the cream thinly to affected area 2 or 3 times a day and rub in gently. Generally a minimum of 2 weeks treatment is necessary for thrush although up to 4 weeks maybe necessary for other conditions. If symptoms persist consult your doctor.
Ingredients
Active ingredient: Clotrimazole 200mg (1% w/w). Also contains: Benzyl Alcohol, Polysorbate 60, Sorbitan Stearate, Cetyl Palmitate, Cetostearyl Alcohol, Octyldodecanol, Purified Water.
Suitable for / Cautions
Suitable For
Suitable for adults, children and babies.
Cautions/Allergies
Keep out of the reach and sight of children.
You Could Also Consider These Foot Care Products
Great Combinations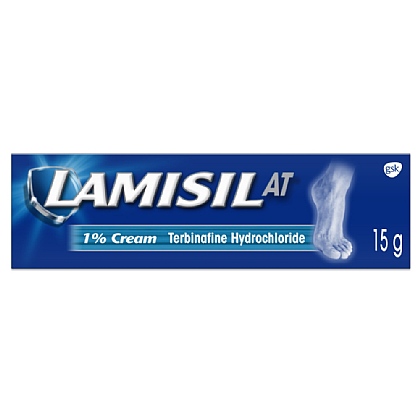 Lamisil AT 1% Cream - 15g
Topical antifungal agent. Works to kill sensitive fungi. Contains Terbafine Hydrochloride 1%.
£6.09
RRP £6.41
Save £0.32 (5% OFF)
Add to basket
Lamisil Once (GSL) - 4g
Lamisil Once is a single-dose treatment to fight the cause and relieve the symptoms of athletes foot.
£9.69
RRP £10.21
Save £0.52 (5% OFF)
Add to basket
Canesten Hydrocortisone Cream (P) - 15g
Canesten Hydrocortisone Cream has been formulated for the treatment of athletes foot and fungal sweat rash when there are additional symptoms of inflammation such as swelling, redness and itching.
£4.74
RRP £5.57
Save £0.83 (15% OFF)
Add to basket