Opticrom Allergy Eye Drops - 10ml
Soothing relief for itchy allergy eyes
Due to hayfever, house mites and other particles e.g. pet hairs
Eye Drops
Soothing relief for itchy allergy eyes
Due to hayfever, house mites and other particles e.g. pet hairs
Eye Drops
Product Information
Opticrom Allergy Eye Drops prevent, treat and soothe itchy, allergy eyes.


Description
Opticrom Allergy Eye Drops help to prevent and to treat the redness, watering and itching that are a misery for anyone suffering from hayfever or an allergy to house mites, pet hairs, etc. When used at the first signs of hayfever eye symptoms, Allergy Eye Drops can prevent the symptoms from getting worse.
Usage
Gently squeeze 1 - 2 drops into each eye, 4 times a day or as directed by your GP.
Ingredients
The active substance is sodium cromoglicate. Each single-dose container contains 2% w/v of sodium cromoglicate.The other ingredients are sodium chloride and purified water
Suitable For
Suitable For adults and children.
Cautions/Allergies
Keep out of the reach and sight of young children. Don't use Optrex while or just before wearing your contact lenses. Wait 15 minutes after application before wearing contact lenses. Do not use more than 4 times in 24 hours.
Frequently Asked Questions (0)
You Could Also Consider These Allergy & Hayfever Products
Great Combinations
Benadryl Allergy Liquid Release 10mg Capsules
Benadryl Allergy Liquid Release 10mg
Capsules provide relief of itchy & runny nose, itchy & watery eyes, sneezing and Urticaria (hives and itchy skin rash).
£5.29
Add to basket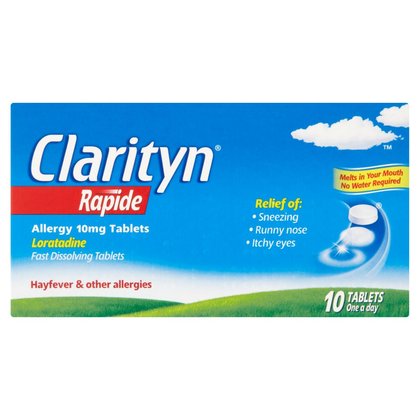 Clarityn Rapide Allergy
Clarityn Rapide Allergy tablets are used
to relieve allergic symptoms due to hay fever and other airborne allergies such as house dust mites and pet allergies.
£5.69
RRP £5.99
Save £0.30 (5% OFF)
View Product