Product Information
Benadryl Allergy Liquid Release 10mg Capsules provide relief of itchy & runny nose, itchy & watery eyes, sneezing and Urticaria (hives and itchy skin rash). Each soft capsule contains 10mg Cetrizine dihydrochloride.


Description
Benadryl Allergy Liquid Release 10mg Capsules help to relieve your allergy symptoms. The capsules can treat the symptoms of hay fever, year round allergies and Urticaria (hives and itchy skin rashes). It also relieves pet, dust and mould allergies. One pack contains one weeks supply.
Usage
Adult and Children aged 12 years and
over: take one capsule once a day. Do not chew the capsule. Swallow the capsule with a drink of water.
Ingredients
Each capsule contains,
Active Ingredient: 10mg Cetrizine dihydrochloride, Other ingredients: macrogel, potassium hydroxide 43% w/w, povidone, purified water, Gelatin capsule: gelatin, sorbitol (E420), glycerol, purified water, lecithin, medium chain triglycerides, Printing Ink: Propylene glycol, black iron oxide (E172), polyvinyl acetate phthalate, macrogel and ammonium hydroxide.
Suitable For
Suitable for use in adults and children from 12 years of age.
Cautions/Allergies
Do not take if you have ever had a bad reaction to any of the ingredients in this product or any other antihistamine or if you have ever had kidney problems.
If you are an epileptic or at risk of convulsion (fits), talk to your doctor or pharmacist before taking this product.
This product does not normally cause drowsiness, however individuals can react differently to treatment. Do not drive or operate machinery if you are affected.
As with all antihistamines, it is advisable to avoid excess alcohol consumption when taking this medicine.
Ask your doctor or pharmacist for advice before taking any medicine if you are pregnant or breastfeeding.
This product contains sorbitol. If you have been told by your doctor that you have an intolerance to some sugars, contact your doctor before taking this product.
Benadryl Allergy Liquid Release 10mg Capsules can have side effects, like all medicines, although these don't affect everyone and are usually mild. Tell your doctor or pharmacist if you notice any serious side effects or you experience any side-effects not included in the patient information leaflet.
Frequently Asked Questions (0)
You Could Also Consider These Allergy & Hayfever Products
Great Combinations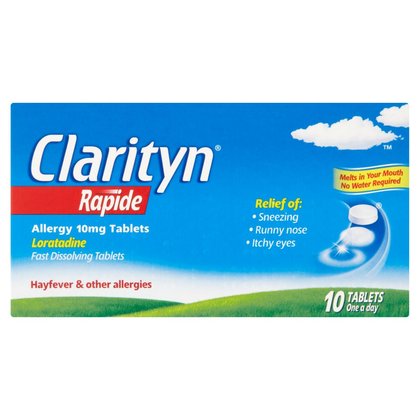 Clarityn Rapide Allergy
Clarityn Rapide Allergy tablets are used
to relieve allergic symptoms due to hay fever and other airborne allergies such as house dust mites and pet allergies.
£5.69
RRP £5.99
Save £0.30 (5% OFF)
View Product