Beclomethasone Aqueous Nasal Spray
Relief from hayfever and other allergies
Blocked nose, sneezing and runny or itchy nose and eyes
Prevention and treatment of common symptoms of allergic rhinitis
Relief from hayfever and other allergies
Blocked nose, sneezing and runny or itchy nose and eyes
Prevention and treatment of common symptoms of allergic rhinitis
Product Information
Beclomethasone Nasal Spray is used in the prevention and treatment of common symptoms of allergic rhinitis, including hayfever and other airbourne allergies, such as sneezing, blocked noses and runny or itchy nose and eyes.
Description
Beclomethasone Nasal Spray helps to decrease nasal inflammation caused by allergens such as pollen, dust mites, and animal fur. It also helps to relieve the symptoms of hayfever and helps bring relief from those suffering with running noses and stinging and streaming eyes. This spray contains the active ingredient beclometasone, which helps to decrease inflammation in the nasal passages and prevent the impact of hayfever. Once Hayfever Relief is sprayed, the beclometasone is instantly absorbed into the nasal passages to help treat the symptoms.
Usage
Adults and children aged 18 and over: The usual starting dose is two sprays into each nostril twice a day.
The most you would take in a 24 hour period is normally 8 sprays (4 sprays per nostril).
As your symptoms become better, your doctor may advise you to use a lower dose of one spray into each nostril twice a day.
If your symptoms get worse again your dose may be increased back again to the starting dose.
Ingredients
50 micrograms of beclomethasone dipropionate per spray.
Suitable For
Adults and children over 18 years of age.
Cautions/Allergies
Tell your doctor, pharmacist or nurse before starting treatment: if you are pregnant (or intending to become pregnant), if you are breast-feeding a baby, if you have recently been treated with injected steroids or if you have been taking oral steroids for a long time, if you have ever had to stop taking this medicine or another medicine for this illness because you were allergic to it or it caused problems.
Read all product packaging and labels prior to use.
Do not exceed the stated dose.
Keep out of the reach and sight of children.
Frequently Asked Questions (0)
You Could Also Consider These Allergy & Hayfever Products
Great Combinations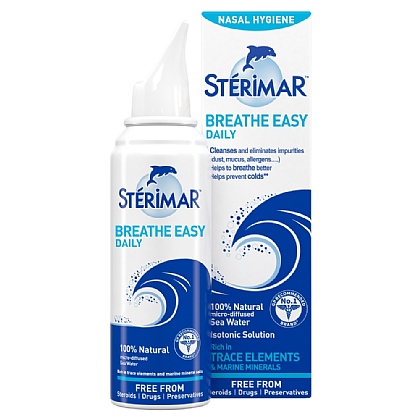 Sterimar Nasal Hygiene Isotonic Spray - 100ml
Sea water microdiffusion spray. Isotonic. 100% natural. Drug-free with no preservatives.
£5.78
RRP £6.79
Save £1.01 (15% OFF)
View Product