Anthisan Bite & Sting Cream - 20g
Relieves pain and itching
Reduces swelling
Suitable from 2 years
Product ID: 5013011004672
Relieves pain and itching
Reduces swelling
Suitable from 2 years

Product Information
Anthisan Bite & Sting Cream has been formulated to provide relief from pain, itching & inflammation caused by insect bites, stings and nettle rash.



Description
Anthisan Bite and Sting Cream contains the active ingredient mepyramine maleate, which belongs to a group of medicines called antihistamines. It works by blocking a natural substance (histamine) that your body makes during an allergic reaction. It is best to apply Anthisan Cream as soon as possible after a bite or sting, to effectively reduce redness, swelling, and itching.
Usage
Adults and children 2 years and over: apply 2 to 3 times a day, for up to three days, directly to the site of the insect bite, sting or nettle rash. For best results, use as soon as possible after the bite or sting.
Ingredients
Mepyramine Maleate. Ceto-Stearyl Alcohol. Polyethylene Glycol 600 Monostearate. Castor Oil. Methyldroxybenzoate. Foin CoupÚ (Fragrance). Silicone Anti-foam. Purified Water
Suitable for / Cautions
Suitable For
Suitable For adults & children 2 years and over.
Cautions/Allergies
For external use only. Do not store above 30¦C. Not suitable for children under the age of 2 years. Keep out of the reach and sight of young children.
You Could Also Consider These Bite & Sting Relief Products
Great Combinations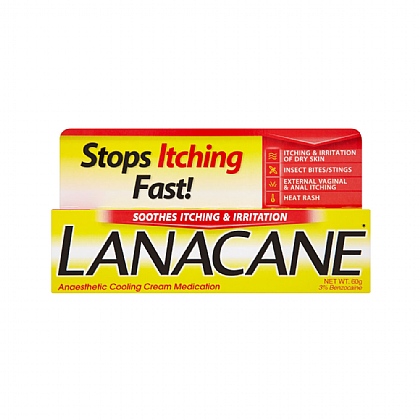 Lanacane Cream - 60g
Antiseptic cooling cream. Relieves dry & irritated skin, insect bites and stings. Suitable for external itching. With active ingredient Contains Benzocaine 3%.
£6.45
RRP £6.79
Save £0.34 (5% OFF)
View Product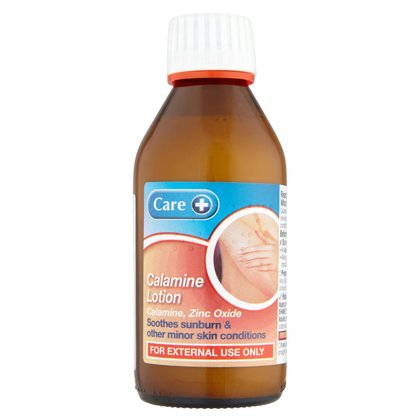 Calamine Lotion - 200ml
Calamine Lotion has been formulated to provide the symptomatic relief of itching and soothe minor skin irritations.
£1.81
RRP £1.90
Save £0.09 (5% OFF)
Add to basket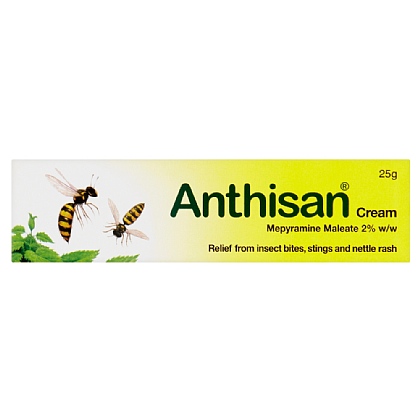 Anthisan Cream - 25g
Relieves Pain. Soothes itching & inflammation. Contains Mepyramine Maleate.
£3.86
RRP £4.07
Save £0.21 (5% OFF)
Add to basket