Nitty Gritty Aromatherapy Head Lice Kit - 150ml
Nitty Gritty Aromatherapy Head Lice Kit contains a double sided fine tooth comb, together with an intensive aromatherapy solution which is the natural and effective way to detect and remove head lice.
Pesticide free
Contains neem and wheatgerm
Includes comb
Product Information
Usage
Apply solution to dry hair saturating scalp and roots. Using the enclosed fine tooth comb, work right through until hair is thoroughly moistened, removing any lice that have been caught in the comb. Leave on for at least 3 hours, combing frequently. Wash out
Ingredients
Vitis Vinisera. Triticum Vulgare. Azadirachta Indica. Eucalyptus Radiata. Pelargonium Graveolens. Lavendula Angustifolium. Rosmarinus Officinalis. Melaleuca Alternifolia.
Suitable for / Cautions
Suitable For
Suitable For adults and children over the age of 2 years.
Cautions/Allergies
For external use only. Keep out of the reach and sight of young children. Not suitable for children under the age of 2 years, unless under the advice of a medical practitioner. Pregnant & breastfeeding women should seek medical consultation before use. Avoid contact with eyes.
You Could Also Consider These Combs Products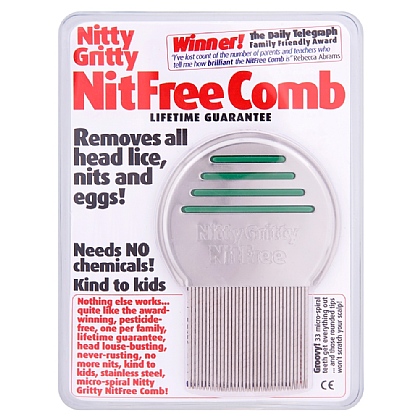 Nitty Gritty Nit-Free Comb
Unique, stainless steel design. Long teeth for optimum efficacy in all hair types. Safe & effective.
£11.14
RRP £11.73
Save £0.59 (5% OFF)
View Product