Hedrin Treat & Go Spray - 60ml
Product Information
Hedrin Treat & Go Spray is a fuss-free head lice treatment solution, ideal for children who just want to get out and play.


Description
Hedrin Treat & Go Spray is the quick and easy way to rid you child's hair of head lice and their eggs. With light, a no-fuss formulation, Hedrin Treat & Go Spray is easily applied, quickly eradicating head lice.
Usage
Shake the bottle well before use and ensure shoulders are covered with a towel. Holding the spray approximately 10cm from the hair carefully spray sufficient solution evenly over dry hair, so that the scalp and hair are fully covered and the hair is saturated. Work into the hair, spreading the solution thoroughly and evenly from the roots to tips. Ensure solution is left in the hair for at least 8 hours (It can be left in overnight if you prefer). Rinse or shampoo solution out (you will notice it comes out easily, with the dead lice). Apply again after 7 days to combat any lice which may hatch in that time.
Ingredients
Octane-1, 2-Diol. PEG-6 Caprylic/Capric-Glycerides. Water.
Suitable For
Suitable For adults and children aged 6 months and over.
Cautions/Allergies
For external use only. If spray accidentally comes into contact with the eyes, flush and rinse away with water. Discontinue the use of Hedrin if a skin rash or other signs of hypersensitivity occur. Children under 6 months should only be treated under medical supervision. If spilled, Hedrin may cause a slip hazard. Keep hair away from sources of ignition, especially naked flames and burning cigarettes, whilst being treated with Hedrin. Treated hair can readily burn if ignited.
You Could Also Consider These Treatments & Repellents Products
Great Combinations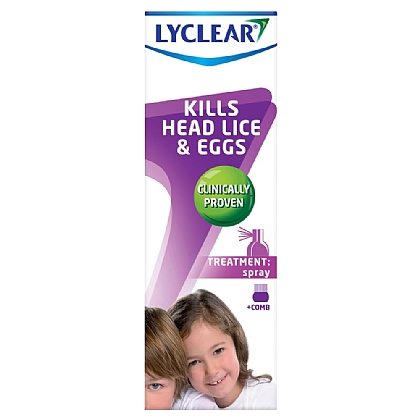 Lyclear Spray & Comb (GSL) - 100ml
Lyclear Spray & Comb is a clinically proven, easy to use head lice treatment which is specifically designed for children's delicate scalps.
£11.39
RRP £11.99
Save £0.60 (5% OFF)
View Product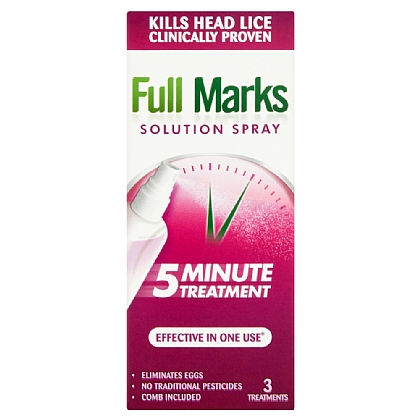 Full Marks Solution Spray - 150ml
Kills head lice & eliminates eggs. Quick & easy treatment. 10 minute treatment. Low in odour. Toxin free.
£12.34
RRP £12.99
Save £0.65 (5% OFF)
View Product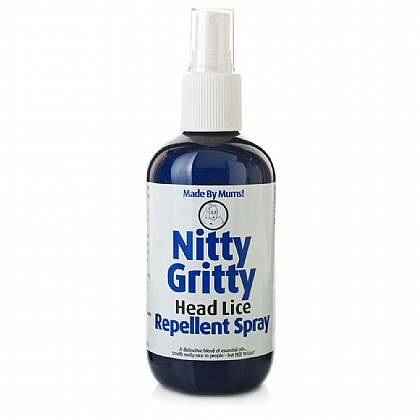 Nitty Gritty Head Lice Repellent Spray - 250ml
Helps keep hair free from lice. Prevents re-infestation. Includes a carefully chosen blend of natural ingredients.
£9.69
RRP £10.20
Save £0.51 (5% OFF)
View Product