Product Information
Hedrin Once Liquid Gel is a fast-acting gel formulation that contains Penetrol to aid the penetration of the louse egg. It takes only 15 minutes to work.


Description
Hedrin Once Liquid Gel can be safely used as often as required without lice developing resistance. It includes a new '1 hour' formula, which along with the aforementioned Pentrol content also includes the active ingredient dimeticone. This silicone-based substance works by physically coating the head lice and preventing them from moving and feeding.

Hedrin Liquid Gel is clinically proven to kill head lice and eggs with just one application. It is suitable for use in adults and children over the age of six months, and can be safely used as often as required without lice developing resistance. Hedrin Liquid Gel is slippery, so baths and shower cubicles may become slippery when using or washing the hair. .
Usage
Shake the bottle well before use and ensure shoulders are covered with a towel. Work into the hair, spreading the gel thoroughly and evenly from the roots to tips. Leave on hair for at least 1 hour. Wash the hair thoroughly with a non-conditioning shampoo. For best results, apply the shampoo directly to the hair without wetting it. Hedrin Once Liquid Gel contains anti-foaming ingredients so the shampoo will not lather readily. Rinse with water repeat shampooing as necessary and dry. Apply again after seven days.
Ingredients
Dimeticone. 1, 6, 10-Dodecatrien-3-ol. 3, 7, 11-trimethyl. PEG/PPG Dimeticone Co-Polymer. Silica Silylate.
Suitable For
Suitable For adults and children aged 6 months and over.
Cautions/Allergies
For external use only. If lotion accidentally comes into contact with the eyes, flush and rinse away with water. Discontinue the use of Hedrin if a skin rash or other signs of hypersensitivity occur. Children under 6 months should only be treated under medical supervision. If spilled, Hedrin may cause a slip hazard. Keep hair away from sources of ignition, especially naked flames and burning cigarettes, whilst being treated with Hedrin. Treated hair can readily burn if ignited.
Frequently Asked Questions (0)
You Could Also Consider These Treatments & Repellents Products
Great Combinations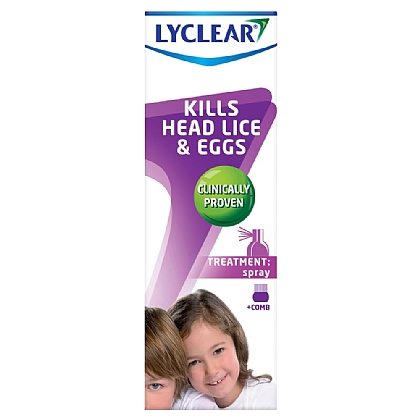 Lyclear Spray & Comb (GSL) - 100ml
Lyclear Spray & Comb is a clinically proven, easy to use head lice treatment which is specifically designed for children's delicate scalps.
£11.39
RRP £11.99
Save £0.60 (5% OFF)
View Product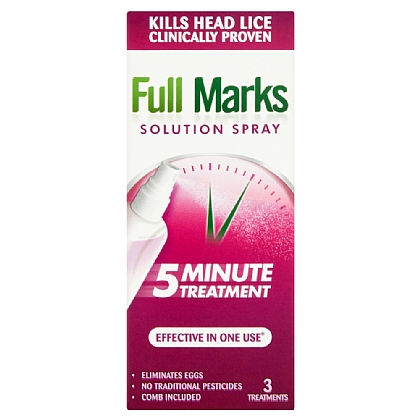 Full Marks Solution Spray - 150ml
Kills head lice & eliminates eggs. Quick & easy treatment. 10 minute treatment. Low in odour. Toxin free.
£12.34
RRP £12.99
Save £0.65 (5% OFF)
View Product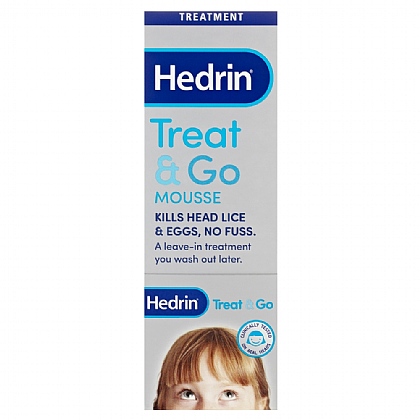 Hedrin Treat & Go Mousse - 100ml
Free of non-volatile ingredients. Skin friendly. Quick to apply. Easy to wash out.
£13.90
Add to basket