Hedex Tablets provide effective relief of the pain and symptoms related to headaches, backache, rheumatic and muscular pain, toothache, period pain, sore throat, fever, colds and flu.
Relieves pain and fever
gentle on the stomach
easy to swallow
Product Information
Usage
Adults and children aged 12 years and over: Take 2 tablets every 4 hours as needed. Do not take more than 8 tablets in 24 hours. Children aged 6 - 12 years: should take half a tablet or 1 tablet, every 4 hours as needed. Do not take more than 4 tablets in 24 hours.
Ingredients
: Maize Starch, Potassium Sorbate (E 202), Purified Talc, Stearic Acid, Polyvidone, Soluble Starch, Hydroxylpropylmethylcellulose, Triacetin, Propylene Glycol, Shellac, Brilliant Blue FCF (E 133), Sodium Lactate, Dimethylpolysiloxane (SAG 770).
Suitable for / Cautions
Suitable For
Suitable For adults and children aged 6 years and over.
Cautions/Allergies
Do not exceed the recommended daily dose. Not suitable for children under 6 years. Seek medical consultation if you are pregnant or breastfeeding, before using Hedex. Children aged 6 - 12 years should not take Hedex tablets for more than 3 days, unless advised to do so by a medical practitioner. Do not use Hedex after the marked expiry date (displayed on the product packaging). In the event of an overdose, immediate medical advice should be sought. If symptoms or a headache persist, seek medical consultation.
Great Combinations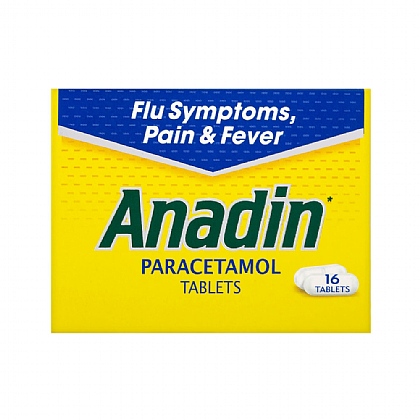 Anadin Paracetamol Tablets - 16
Easy to swallow tablets. Contains paracetamol. Gentle on the stomach.
£1.93
RRP £2.03
Save £0.10 (5% OFF)
View Product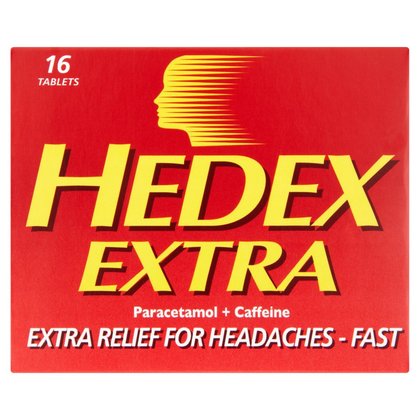 Hedex Extra Tablets - 16
Contains caffiene. Effective relief from headache, migraine and tension headaches. Also treats backache, rheumatic and muscle pain, neuralgia, toothache and period pain.
£2.27
RRP £2.39
Save £0.12 (5% OFF)
Add to basket
You Could Also Consider These Headache Products