Preparation H Wipes have been designed for use in place of regular toilet tissue. They help to cleanse the anal area, and moisturise, hydrate & soothe dry itchy skin.
Soothing wipes

Ideal to soothe and cleanse the anal area

Unique combination of witch hazel and aloe vera
Product Information
Usage
For use after a bowel movement in place of regular toilet tissue. They should also be used before applying the Preparation H Gel or Ointment to cleanse the anal area.
Ingredients
Hamamelis Virginiana Distillate. Aqua. Glycerin. Propylene Glycol. Methylparaben. Diazolidinyl Urea. Sodium Citrate. Aloe Barbadensis Gel. Citric Acid. Propylparaben. Capryl/Capramodopropyl Betaine.
Suitable for / Cautions
Suitable For
Suitable For adults and children aged 12 years and over.
Cautions/Allergies
Keep out of the reach and sight of children. If skin irritation occurs whilst using this product, discontinue use. Those who suffer from haemorrhoids/piles are advised to seek medical consultation.
You Could Also Consider These Suppositories & Wipes Products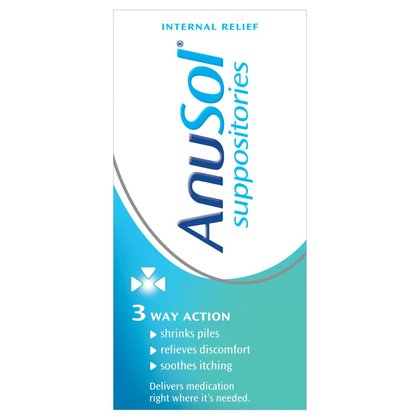 Anusol Suppositories - 24
Shrinks piles. Soothes itching. Relieves pain.
£5.73
RRP £6.73
Save £1.00 (15% OFF)
Add to basket