Anusol Suppositories - 24
Internal Relief
3 Way Action
Shrinks Piles
Relieves Discomfort
Soothes Itching
Delivers medication right where it's needed
Internal Relief
3 Way Action
Shrinks Piles
Relieves Discomfort
Soothes Itching
Delivers medication right where it's needed
Product Information
Anusol Suppositories help to relive the swelling, itch and irritation of internal piles (haemorrhoids) and other related conditions, such as anal itching. It contains three main ingredients. Zinc Oxide and Bismuth salts are mildly astringent and antiseptic. They soothe and protect raw areas. Balsam Peru is mildly antiseptic and has a protective action on sore areas and may help healing.


Description
Anusol Suppositories work to provide effective, soothing relief from the pain and discomfort associated with internal haemorrhoids (piles), itching, fissures and other related anal conditions.

Piles are swollen blood vessels inside the anus which can create fluctuating degrees of discomfort, itch and irritation, particularly during and just after a bowel movement. Each Anusol suppository contains a mixture of ingredients which help to relieve the discomfort and symptoms associated with plies by soothing and protecting raw areas, reducing swelling, preventing bacterial growth and encouraging healing.
Usage
Adults: Wash hands before and after use. If necessary, empty bowls before use. Insert the suppository as deep as possible into the rectum. One suppository should be inserted night and morning after each bowel movement. Do not use for more than 7 days unless directed by a medical practitioner.
Ingredients
Zinc Oxide. Bismuth Subgallate. Balsam Peru. Bismuth Oxide. Kaolin Light. Suppocire BS2 Pastilles (Hard Fat). Titanium Dioxide (E171). Miglyol 812.
Suitable For
Suitable For adults only.
Cautions/Allergies
Not suitable for children, keep out of their sight & reach. Do not use for more than 7 days unless directed by a medical practitioner. Do not swallow. Allergic reactions may occur and occasionally diarrhoea. If you notice these or any other side effects, stop use and seek medical consultation. Do not use after the expiry date.
Frequently Asked Questions (0)
You Could Also Consider These Suppositories & Wipes Products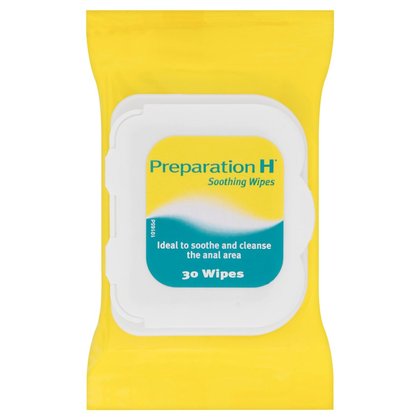 Preparation H Wipes - 30
Flushable & biodegradable. Hypoallergenic. Alcohol-free.
£3.87
RRP £4.07
Save £0.20 (5% OFF)
View Product