Product Information
Wartner Wart and Verruca Remover is a popular, self-treatment for the rapid and effective relief of warts and verrucas. It uses a similar method of freezing treatment to those used by medical practitioners, ensuring successful results over a period of 10-14 days.


Description
Verrucas and warts are a very common type of skin infection that grow on the top layer of the skin and are caused by the human papilloma virus (HPV). Warts are generally manifest on the hands, knees and elbows and are recognised by their slightly rough surface appearance. Verrucas tend to be much flatter in appearance and only develop on the sole of the foot. Sometimes, verrucas are covered by callous skin.Although both warts and verrucas are harmless, they can be very contagious and so immediate treatment is recommended to prevent them from multiplying. Wartner Wart and Verruca Remover has been specifically designed to provide the most effective and easy to use self-treatment available. Typically only 1 treatment is needed.
Usage
Push the foam applicator on to the applicator holder. Push the applicator holder into the aerosol can for 3 seconds. Wait for 20 seconds after saturation of the foam to further reduce temperature. Hold the white tip of the foam applicator on to warts for 20 seconds and verrucas for 40 seconds (for verrucas, a file is included for optimal preparation prior to the treatment: see leaflet for additional instructions)

Ingredients
Dimethyl Ether, Propane.
Suitable For
Suitable For use by the entire family, including children from the age of 4 upwards.
Cautions/Allergies
For external use only. Not to be used on the face or genitals. Do not use on open wounds or healthy skin. Keep out of the reach and sight of children. Pregnant or breastfeeding women should consult a GP before using this product.
Frequently Asked Questions (0)
You Could Also Consider These Warts & Verrucas Products
Great Combinations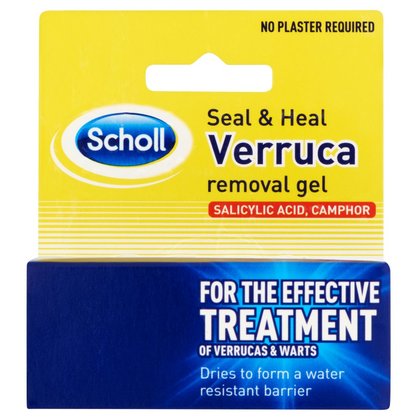 Scholl Seal & Heal Verruca Removal Gel - 10 ml
For the effective removal of verrucas, warts, corns and calluses. Dries to form a water resistant barrier. Prevents the spread of verruca & wart infections.
£5.69
RRP £5.99
Save £0.30 (5% OFF)
View Product