Lamisil AT 1% Spray (GSL) - 15ml
Anti-fungal
Cooling relief
Long lasting protection
Anti-fungal
Cooling relief
Long lasting protection
Product Information
Lamisil AT 1% Spray relieves burning, cracking, itching and scaling associated with jock itch, athlete's foot, ringworm, and other fungal infections of the skin.


Description
Lamisil AT 1% Spray contains the active ingredient and antifungal medicine, terbinafine hydrochloride. Terbinafine is applied to the nail or skin to treat fungal infections and works by interfering with the fungal cell membranes. This causes a cease in the growth of these infectious organisms, and therefore kills them. Terbinafine will also continue to work in the skin to substantially reduce the risk of re-infection.Lamisil's spray treatment is recommended for athlete's foot in between the toes. You should seek medical consultation if you have a fungal nail infection (fungus inside and under the nail) with discolouration of the nails and changes in nail texture (thick or flaky), as Lamisil AT 1% Spray is not appropriate for this type of infection.
Usage
Apply the spray once a day for one week. Cleanse and dry the affected areas before application. Apply to the affected skin and surrounding areas from a distance of 5 to 10cm until it is wet.
Ingredients
Active Ingredient: Terbinafine Hydrochloride. Also contains: Ethanol (23.5%). Propylene Glycol. Cetomacrogol 1000. Purified Water.
Suitable For
Suitable For adults and children over the age of 16 years.
Cautions/Allergies
For external use only. Keep Lamisil Spray away from your eyes. Do not use if you have had an allergic reaction to Terbinafine or any of the ingredients in the spray. If you are pregnant or breast-feeding, seek medical consultation before using this medicine. If you have not noticed any signs of improvement within weeks of starting treatment, please seek medical consultation. Keep out of the reach and sight of children. Do not store above 30C. Do not refrigerate.
Frequently Asked Questions (0)
You Could Also Consider These Athletes Foot Products
Great Combinations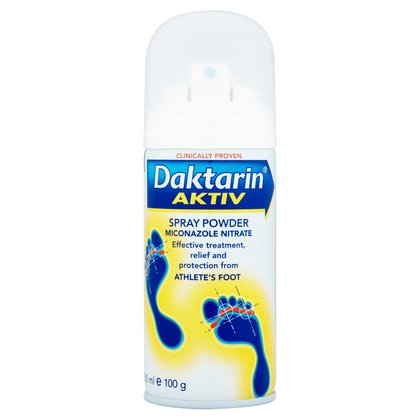 Daktarin Aktiv Spray Powder
Daktarin Aktiv Spray Powder has been formulated to effectively treat and relieve athlete's foot.
£6.79
Add to basket