Daktarin Gold Cream - 15g
Rapid relief from athlete's foot
Lasting protection of symptoms
Also tretas dhobie itch and infected sweat rash
Rapid relief from athlete's foot
Lasting protection of symptoms
Also tretas dhobie itch and infected sweat rash
Product Information
Daktarin Gold Cream provides the rapid relief and long lasting protection of symptoms that include athlete's foot, dhobie Itch and infected sweat rash.


Description
Athlete's Foot is encouraged by moist, warm conditions and can be recognised by redness, irritation and itchiness between the toes. The affected areas of foot skin may flake and crack, and often an athlete's foot infection can cause an unpleasant smell. Dhobie Itch is a fungal infection that manifests in the groin area, causing intense itching and inflammation. Dhobie Itch is common in men, where the skin of the scrotum is often affected.

Daktarin Gold 2% Cream is a medicine that is used to treat skin infections which may appear on the feet, in the groin area or between the skin folds. It rapidly relieves the itching which these fungal infections cause and also provides long lasting protection from athlete's foot, as it will continue to work even after you have stopped using it!

Daktarin Gold Cream contains the active ingredient, ketoconazole, which is a synthetic, imidazole-derived antifungal medication. Ketoconazole is commonly known for its use to treat a variety of fungal infections and works by disrupting fungi cell membranes, and eventually killing them.
Usage
For mild athlete's foot: apply cream gently between the toes and surrounding area twice a day for one week. For more severe or extensive athlete's foot (eg also affecting the sole or sides of the feet): continue to apply the cream to the affected areas for at least 2-3 days after symptoms have cleared to prevent them coming back. For dhobie itch & candidal intertrigo: apply cream into the affected area once or twice daily for at least 2-3 days after symptoms have cleared to prevent them from coming back.
Ingredients
Ketoconazole. Propylene Glycol. Stearyl Alcohol. Cetyl Alcohol. Sorbitan Stearate. Polysorbate 60. Polysorbate 80. Isopropyl Myristate. Sodium Sulphite (E221). Purified Water.
Suitable For
Suitable for adults.
Cautions/Allergies
For external use only. Keep out of the reach and sight of young children. Avoid contact with the eyes. Do not use if you have a sensitivity to any of the listed ingredients. Pregnant and breastfeeding women should seek medical consultation before using this medicine.
Frequently Asked Questions (0)
You Could Also Consider These Fungal Nail Treatment Products
Scholl Fungal Nail Treatment - 3.8ml
Easy to use. Highly effective. Stops the problem from spreading. Helps prevent re-infection. Dermatologically tested.
£19.99
Add to basket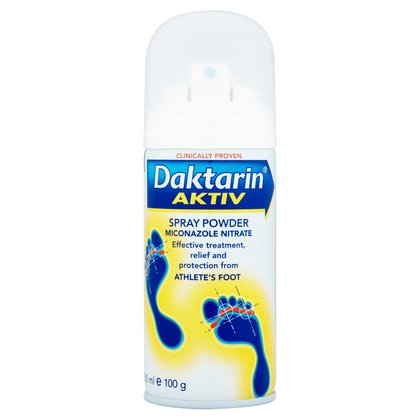 Daktarin Aktiv Spray Powder
Daktarin Aktiv Spray Powder has been formulated to effectively treat and relieve athlete's foot.
£6.79
Add to basket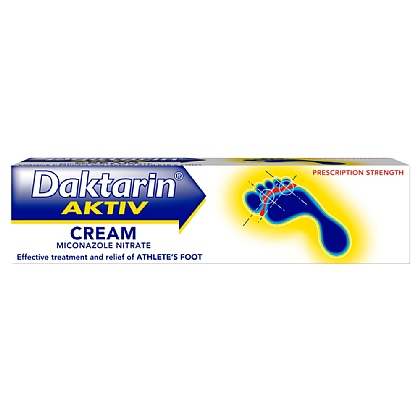 Daktarin Aktiv Cream - 30g
Daktarin Aktiv Cream has been formulated to effectively treat and relieve athlete¬ s foot.
£6.43
RRP £6.77
Save £0.34 (5% OFF)
View Product