Bazuka Treatment Gel 6g
For the treatment of verrucas and warts
Clinically proven
Once daily application
For the treatment of verrucas and warts
Clinically proven
Once daily application
Product Information
Bazuka Treatment Gel is a treatment for warts, verrucas, corns and calluses. It forms a water resistant, protective barrier to prevent the spread of warts and verrucas


Description
Warts and verrucas are a very common type of skin infection that grow on the top layer of the skin and are caused by the human papilloma virus (HPV). Warts are generally manifest on the hands, knees and elbows and are recognised by their slightly rough surface appearance. Verrucas tend to be much flatter in appearance and only develop on the sole of the foot. Sometimes, verrucas are covered by callous skin. Although both verrucas and warts are harmless, they can be very contagious and so a fast and effective treatment is recommended to prevent them from multiplying.

Bazuka Extra Treatment Gel contains the active ingredient salicylic acid, which works by softening hard skin growth. This makes it easier to remove with a pumice stone or emery board; helping to kill the virus that causes warts and verrucas. Bazuka Treatment Gel is suitable for use by adults, the elderly and children over two years of age.
Usage
Directions: Read and retain the enclosed patient information leaflet. For adults, elderly and children over 2 years (children under 12 years should be treated by an adult). Not recommended in children under 2 years. Carefully apply a thin coating (1 or 2 drops) of the gel to the surface of the verruca or wart, once every night, and allow to dry.
Ingredients
Active Ingredient: Salicylic Acid 26.0% w/w,Also contains: Camphor, Povidone, Pyroxylin, Ethanol, Acetone
Suitable For
Not recommended in children under 2 years.
Cautions/Allergies
Do not use: Do not use on or near the face, neck, armpits, breasts, areas of folded skin, bottom or genital (sex) regions, or if you have diabetes or suffer from poor blood circulation to the hands or feet. Do not use on corns, calluses, birthmarks, moles, warts with hairs growing from them, or any other spots. Do not use if sensitive to any of the ingredients.

Take special care: Keep away from the eyes, mucous membranes, cuts and grazes. Do not apply the gel to the surrounding skin as it may be irritant. Discontinue use if excessive irritation occurs on or around treated area. If in doubt about the diagnosis, or whether this product is appropriate, seek medical advice before use. Read the patient information leaflet for advice on avoiding the spread of warts and verrucas. Keep all medicines out of the reach and sight of children.

Highly Flammable. Keep away from flames.
Do not store above 25¦C.
Replace cap tightly after use.
Avoid inhaling vapour. Max Temp ¦C: 25
Frequently Asked Questions (0)
You Could Also Consider These Verrucas & Warts Products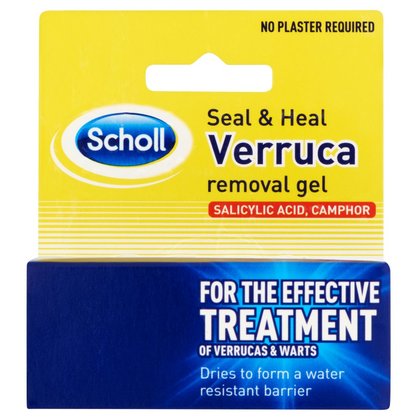 Scholl Seal & Heal Verruca Removal Gel - 10 ml
For the effective removal of verrucas, warts, corns and calluses. Dries to form a water resistant barrier. Prevents the spread of verruca & wart infections.
£5.69
RRP £5.99
Save £0.30 (5% OFF)
View Product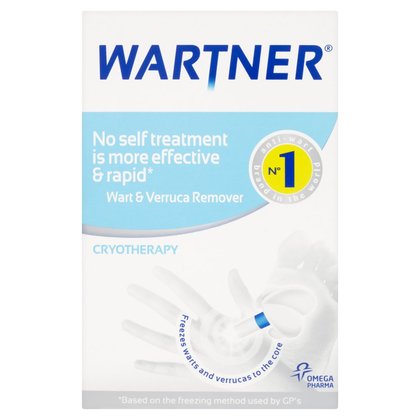 Wartner Wart and Verruca Remover 50ml
Freezes warts to the core. Easy-to-use application. Clinically tested.
£12.34
RRP £12.99
Save £0.65 (5% OFF)
View Product