Savlon Spray Plaster - 40ml
Savlon Spray Plaster delivers a spray-on waterproof and transparent film which helps protect cuts and grazes and aid the natural healing process.
Antiseptic upon application
Protection from minor cuts & grazes
Reduces the risk of infection
Aids natural healing
Waterproof & transparent
Non drip
Product Information
Usage
Use as and when required.
Ingredients
Chlorhexidine Gluconate 0.45% w/v, Polyoxyethylene Polyoxypropylene block Co-polymer, Lauryl Dimethyl Amine Oxide, Polysorbate 20, Perfume, D-gluconolactone, Sodium Hydroxide, Water
Suitable for / Cautions
Suitable For
Suitable For adults & children.
Cautions/Allergies
For external use only. Keep out of the reach and sight of children. Do not inhale. Protect from sunlight. Do not expose to temperatures exceeding 50¦C. Keep away from sources of ignition - No smoking.
Great Combinations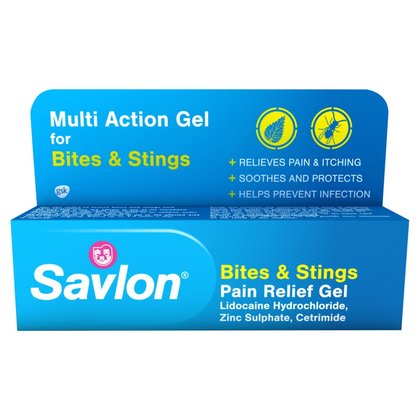 Savlon Bites & Stings Gel - 20g
Savlon Bites & Stings Gel has been formulated for the relief of insect bites and stings, and skin reactions.
£4.07
RRP £4.28
Save £0.21 (5% OFF)
Add to basket
You Could Also Consider These Plasters & Bandages Products