Savlon Spray Plaster - 40ml
Savlon Spray Plaster delivers a spray-on waterproof and transparent film which helps protect cuts and grazes and aid the natural healing process.
Antiseptic upon application
Protection from minor cuts & grazes
Reduces the risk of infection
Aids natural healing
Waterproof & transparent
Non drip
Product Information
Description
Savlon Spray Plaster contains a no-touch, alcohol based formula that is antiseptic upon application. The active ingredient is povidone iodine 1.14% w/w, a broad spectrum antimicrobial agent used for the treatment and prevention of infection in wounds. Povidone Iodine is ideal for the treatment of minor cuts, grazes, burns, blisters and abrasions.
Usage
Use as and when required.
Ingredients
Chlorhexidine Gluconate 0.45% w/v, Polyoxyethylene Polyoxypropylene block Co-polymer, Lauryl Dimethyl Amine Oxide, Polysorbate 20, Perfume, D-gluconolactone, Sodium Hydroxide, Water
Suitable for / Cautions
Suitable For
Suitable For adults & children.
Cautions/Allergies
For external use only. Keep out of the reach and sight of children. Do not inhale. Protect from sunlight. Do not expose to temperatures exceeding 50¦C. Keep away from sources of ignition - No smoking.
Great Combinations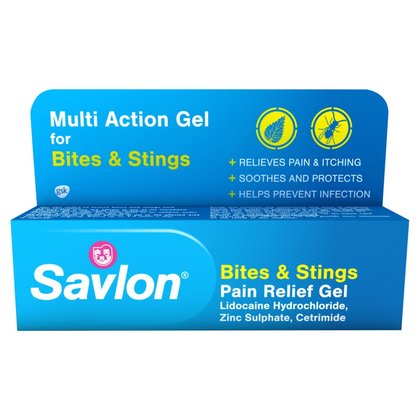 Savlon Bites & Stings Gel - 20g
Savlon Bites & Stings Gel has been formulated for the relief of insect bites and stings, and skin reactions.
£4.07
RRP £4.28
Save £0.21 (5% OFF)
View Product
You Could Also Consider These Plasters & Bandages Products