Dettol Antiseptic Cream - 30g
Dettol Antiseptic Cream includes a combination of antiseptic and antibacterial agents which are specially formulated to kill the bacteria that may cause a skin infection. This useful first aid product has a fast acting and long lasting formula that protects against infection and assists in natural healing of the skin.
Moisturising formula
Protects against infection
Assists in natural healing
Suitable for cuts & grazes, bites & stings
Fast acting and long lasting
Formulated with almond oil to soothe
Product Information
Description
Dettol Antiseptic Cream has been formulated with three active ingredients, which includes chloroxylenol, triclosan and edetic acid. Chloroxylenol and triclosan are both antiseptics and prevent infection, while edetic acid combines with these two antiseptics to make them more effective against certain types of bacteria. Dettol Antiseptic Cream can be used on both adults and children, and is suitable for minor skin cuts, scratches, grazes, minor burns, bites and stings.
Usage
Apply cream directly or on lint or gauze. If necessary cover with a plaster or dressing.
Ingredients
Chloroxylenol 0.3% w/w. Triclosan 0.3% w/w. Edetic Acid (as Potassium Salt) 0.2% w/w in a base. Almond Oil. Glycerol. Emulsifying Wax. Carbomer 974P. Terpineol. Perfume ES9078. Potassium Hydroxide Solution 50%. Purified Water.
Suitable for / Cautions
Suitable For
Suitable For adults and children.
Cautions/Allergies
Keep out of the reach and sight of young children. Do not use this medicine if you are allergic to the product or any of its ingredients. Do not use this medicine if you suffer from skin complaints. If you experience any form of skin irritation during treatment, discontinue use. Pregnant and breastfeeding women should seek medical consultation before using this medicine.
Great Combinations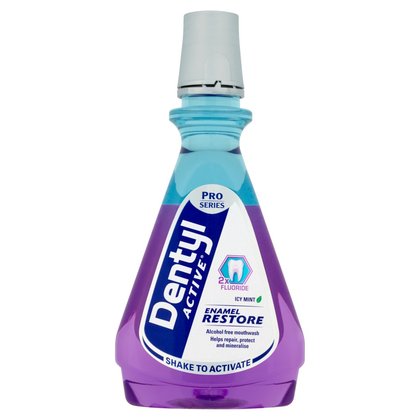 Dentyl Active Enamel Restore Icy Fresh Mint Mouthwash - 500ml
Dentyl Active Enamel Restore Icy Fresh Mint Mouthwash contains double the flouride of most everyday mouthwashes, to lift and absorb 99.
£4.17
RRP £4.39
Save £0.22 (5% OFF)
View Product
You Could Also Consider These Antiseptics Products