Dettol Anti-Bacterial Multi-Purpose Wipes
Dettol Power & Fresh Anti-Bacterial Wipes are multi-purpose disposable cloths that tackle the dirt you can see and the germs you can't. Keeping your home clean is important, but it's not just about removing stains and spills; these anti bacterial disinfectant wipes cut through grease and dirt while also killing 99.9% of bacteria. That means you get superior cleaning results, with the reassurance that Dettol's disinfection is keeping your home hygienic. This mega pack of 72 large wipes offers great value for money and the lemon & lime fragrance leaves your home smelling bright and fresh.
Large anti-bacterial multi-purpose wipes - resealable mega pack of 72
Kills 99.9% of bacteria
3x cleaning power penetrates kitchen grease, burnt on food and bathroom dirt
The lemon & lime fragrance leaves your home smelling fresh
Product Information
Usage
Simply pull back the resealable cover, take out a wipe and run it across the surface to leave a visible shine and a fresh citrus scent in every room. Make sure to dispose of the wipes after each use - the resealable pack will keep your remaining wipes fragrant and moist.
Ingredients
Dettol Multi-Purpose Wipes contain amongst other ingredients: Per 100 g of product contains 0.37g Benzalkonium Chloride. Contains <5% Nonionic Surfactants, Disinfectant, Parfum. Contains Limonene.
Suitable for / Cautions
Suitable For
Suitable for use throughout the home: on kitchen surfaces & appliances, bathroom fittings and toys
Cautions/Allergies
Not suitable for porous surfaces, carpet, upholstery, fabric. Keep out of the reach of children. Not for personal use. Do not flush down the toilet.
Great Combinations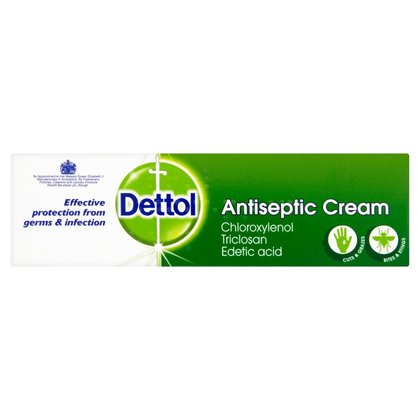 Dettol Antiseptic Cream - 30g
Dettol Antiseptic Cream includes a combination of antiseptic and antibacterial agents which are specially formulated to kill the bacteria that may cause a skin infection.
£1.89
RRP £1.99
Save £0.10 (5% OFF)
View Product
You Could Also Consider These Antiseptics Products