Acriflex Cooling Burns Gel - 30g
Soothe by rapidly cooling the skin tissues to relieve discomfort
Reduce the redness of inflamed skin
Hydrate the surface layers of the skin to promote the skin's natural repair system
Soothe by rapidly cooling the skin tissues to relieve discomfort
Reduce the redness of inflamed skin
Hydrate the surface layers of the skin to promote the skin's natural repair system
Product Information
Acriflex Cooling Burns Gel uses the physical process of osmosis to quickly ease inflammation, rapidly cool and soothe the skin, supporting the healing process.


Description
Acriflex Cooling Burns Gel is suitable for both adults and children, and can be applied directly onto unbroken skin. This non-sticky gel cools and soothes the skin upon application, whilst creating an osmotic gradient which draws water into the surface of the skin from deeper layers. Water molecules are drawn to the surface through osmosis, rehydrating the area, reducing redness and swelling.Acriflex Cooling Burns Gel is easily absorbed into the skin and is well tolerated. It is free from preservatives, perfume and alcohol too.
Usage
Apply to skin and massage in gently. Leave for a few minutes to penetrate. Repeat 2 - 3 times daily. Please note: some individuals may experience a tingling sensation upon application.
Ingredients
Glycerin. PEG-8. Caprylyl Glycol. Sodium Polyacrylate. Carbomer. Sodium Hydroxide. Purified Water.
Suitable For
Suitable For adults and children over 6 months of age.
Cautions/Allergies
For external use only. Keep all medicines out of the reach and sight of children. Keep away from the eyes. Do not use after the expiry date. Keep away from sources of heat. If symptoms worsen or do not improve, stop use and seek medical consultation.
Frequently Asked Questions (0)
You Could Also Consider These Antiseptics Products
Great Combinations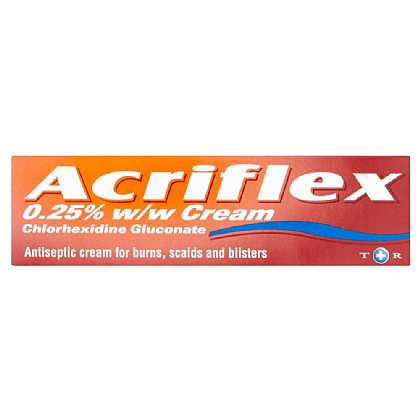 Acriflex Cream - 30g
Antiseptic burns cream. Soothing & effective. Contains Chlorhexidine Gluconate.
£2.84
RRP £2.99
Save £0.15 (5% OFF)
View Product